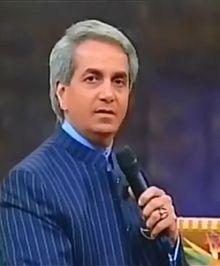 BJP asks Karnataka Chief Minister Siddaramaiah not to grant permission for Benny Hinn's prayer meet, reports Vicky Nanjappa.
Bangalore is gearing up for a spate of protests in the wake of controversial evangelist Benny Hinn's visit to the city between January 15 and 17.
The Benny Hinn controversy is nothing new to Bangalore and the last time he had visited in 2005, major protests had erupted but the show finally went on thanks to a ruling by the Karnataka high court.
Hinn, who claims that he can cure diseases, has been accused of forcible conversions. The Bharatiya Janata Party in particular has been vocal about his visit and accuses Hinn of forcibly converting people under the garb of prayers.
This time around, the BJP has decided to go all guns blazing to protest against Hinn's visit, and has even written to Chief Minister Siddaramaiah not to give permission for the event.
Vishwa Hindu Parishad International President Praveen Togadia, Vishweshwara Teertha Swamiji of Udupi's Pejawar Mutt and Sri Ram Sene chief Pramod Muthalik are expected to join the protests against Hinn.
The evangelist has always managed to set off a controversy and Karnataka politicians have been divided on the issue. The last time he visited Bangalore both Janata Dal-Secular supremo Deve Gowda and then Chief Minister Dharam Singh had visited the venue, much to the disliking of their political opponents.
Hinn's 2005 visit also went up to the Karnataka high court. A division bench of the high court headed by Justice S R Nayak was told that permission should not be granted for the programme as it was not a prayer meet but a platform for conversions. However, the high court dismissed the plea quoting the right to religion clause in the Constitution.
The court however directed that a committee be set up to monitor the programme and in case conversions did occur then the organisers and also Benny Hinn would be liable for action.
The current programme is being organised by the Bethel AG Church. The organisers say that the entry fee is Rs 850 and Benny Hinn would be a guest speaker at the event. They have also said that it is only a prayer meet for the sick and not some miracle healing or conversion camp.
Image: Benny Hinn
Photograph courtesy: Wikimedia Commons