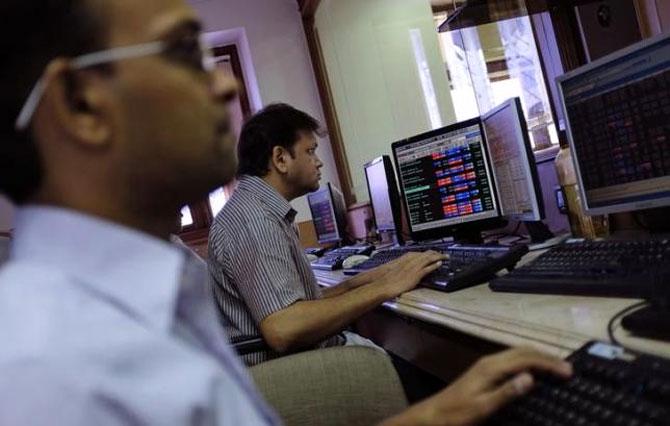 Foreign investors are also getting cautious on emerging markets including India.
Consumer stocks have been the clear losers in what has been the biggest market correction in the recent times.
The BSE Auto, BSE Consumer, and BSE FMCG (fast-moving consumer goods) indices have pared nearly 9-13% of their total market capitalisation, versus the BSE Sensex's 6 % correction since November 8. Experts suggest the fall is unlikely to be arrested or reversed in the near-term.
Demonetisation: Take the Pulse of the Nation poll!
Continuing with the downward momentum witnessed since the announcement of demonetisation, stocks such as Tata Motors, Bata India, Jubilant FoodWorks, Page Industries, Eicher Motors and Mahindra and Mahindra were under pressure in Thursday's trade as well -- down 2.4-4%. Some of them such as Tata Motors and M&M were among the top losers in Sensex stocks.
"A combination of two major market-shaking events happened at the same time and investors, both domestic and institutional, will book profits on stocks which have witnessed a good run for at least the last year or so," said the head of research of a foreign brokerage. "Only December quarter results will indicate the pressures likely ahead for India Inc and in particular for the consumption stocks due to demonetisation."
Also, foreign investors are getting cautious on emerging markets including India. "I see a prolonged period of sell-off, particularly in segments such as auto and consumer discretionary, where the stock outperformed the broader indices in the big way in the past two years," the research head said.
U R Bhat, managing director, Dalton Capital Advisors points out that some amount of investor selling is happening in anticipation of further correction in consumption stocks, which would become clearer after the December-quarter earnings. "Investors would then prefer to sell now and buy at lower levels, if they feel there is still upside left in the stocks," Bhat said.
Other experts also subscribe to this view. Pranoy Kurian, an analyst with IDBI Capital who tracks the automobile sector, said investors are beginning to question the substantial premium assigned to consumption stocks in the wake of the demonetisation jolt.
"It remains unclear to what degree FY18 and FY19 earnings will be impacted, which is likely causing investors to rebalance their portfolio."
The head of research at a domestic brokerage said even retail HNIs were participating in the ongoing correction.
"For now the domestic institutional investors are helping the market to hold up, but at some stage if they also decide to cut short their losses, then I see a steeper correction across all stocks, with consumption stocks bearing most of the pain," he said.
Interestingly, while consumption is at the losing end, there are other themes that experts are advising. Kurien said the likely beneficiaries of the current selling activities could be export-oriented businesses which would gain from a weak rupee, industrial stocks and businesses which cater to industrial or government orders.
"The shift is gradually happening more on account of favourable risk-reward for stocks in these sectors and the shift would be more pronounced as investors roll over their targets to 2017," the head of research at a foreign brokerage quoted above said.
Experts believe companies such as L&T, BHEL, Havells, NTPC, JSW Energy and all banking and non-banking financial companies would be the major beneficiaries of this shift in preference.