From July 27, 2017, says Syed Firdaus Ashraf, my daughter will have to learn that there are only two most important things in life: Power and money.
Illustration: Uttam Ghosh/Rediff.com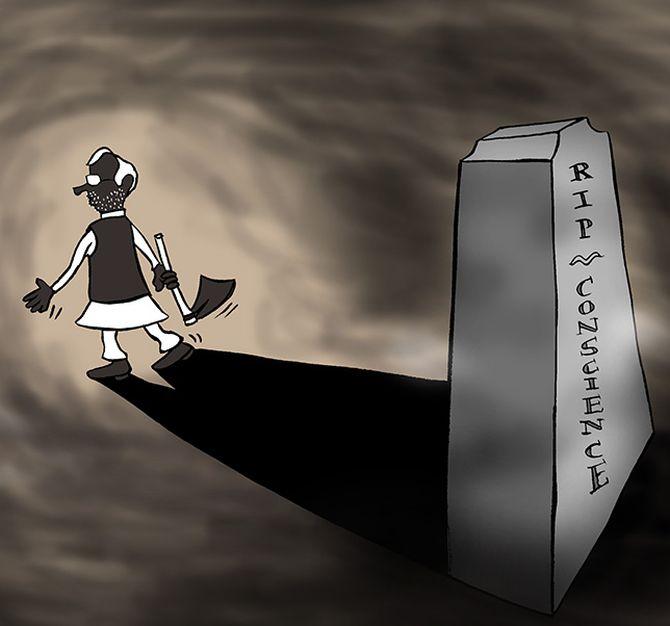 Many years ago, I was watching an interview with businessman L N Mittal, one of the richest men in the world.
'What is the most important thing in the world you value?' the interviewer asked Mittal.
Mittal paused before answering: 'Values.'
'After a point of time money does not matter,' Mittal said, 'only values matter.'
I was very impressed by Mittal's answer though I have no idea how much value he attaches to his own 'values' philosophy.
Since that interview I have believed that 'values' make the man.
Right from the time she was a child I have tried to instil the right values in my daughter:
Don't speak ill of anyone.
Don't steal from anyone.
Work hard.
Be content in life.
Respect your elders.
Stand by your friends when they are in trouble.
Respect all religions.
Help people when they need you.
The most important thing I've told my only child is to have a conscience.
On Wednesday night, when Nitish Kumar ditched Lalu Yadav and abruptly joined hands with the BJP to form the government in Bihar, my daughter asked why there was so much chaos on the news television channels (More than usual, I guess, which is why she noticed it).
"Conscience is dead," I told her. "Never follow your conscience."
She could not believe her ears. What I was saying went against everything I had always told her.
"Whatever I have taught you till date, please throw it in the dustbin."
She was stunned, wondering what had gone wrong with her father.
"If you don't want to end up a loser, just follow Nitish Kumar's footsteps."
"Be a cunning opportunist."
I explained how Nitish Kumar had taken on the BJP after 2013, declaring it a communal party after Narendra Modi was made its prime ministerial candidate.
Now the same Nitish Kumar found nothing wrong in the BJP or in Narendra Modi.
Ditto for Narendra Modi. Before the Bihar assembly election in 2015 Modi declared the Nitish Kumar government incompetent, even questioned the chief minister's DNA!.
Now Modi and Nitish have formed a mutual admiration society, exchanging tweets hailing each other.
The people of Bihar had resoundingly voted against the BJP and Modi in the 2015 assembly election. But that didn't matter to Nitish Kumar.
Displaying disdain for the popular mandate, he joined hands with the BJP so that he could stay on in power.
Democracy is dead! I told my daughter. Long live hypocrisy!
From July 27, 2017, I told the teenager she would have to relearn the lessons of life.
She must learn that the two most important things in life are: Power and Money.
And if she wanted to succeed in life like Nitish Kumar, I told her you need to do these things:
Grab power by hook or crook.
Ditch your friends for power or pelf.
Be a backstabber.
Play the religion card when it suits you, and drop it quickly when it doesn't.
Being honest won't take you anywhere in life, I said.
After I dropped her off to school on Thursday morning, I wondered if I should have said all that I did to her on Wednesday night.
What right did I have to impose my beliefs on her?
Wasn't it up to her to discover what is what in life?
I was disturbed all day till I spotted Chetan Bhagat's tweet on Thursday evening.
'In politics,' the novelist wrote, 'no permanent enemies. Guess it makes sense for everyone to follow this in real life as well.'
If someone as successful as Chetan Bhagat supports Nitish Kumar's politics of sheer opportunism, then maybe I too needed to change my way of thinking.
Conscience is clearly dead, Mr Nitish Kumar.
You never had a conscience when you joined hands with a convicted politician like Lalu Yadav nor do you have a conscience on joining hands with the BJP to stay on as chief minister.
Minds more eloquent than mine hailed you as the Great Hope of Indian politics not a few days ago. Haaaaaaaaaaaaaaaa, indeed.