Will the new Congress government implement the five 'guarantees' that helped it in part to wrest power from the Bharatiya Janata Party in toto or will they now add a "conditions apply" clause?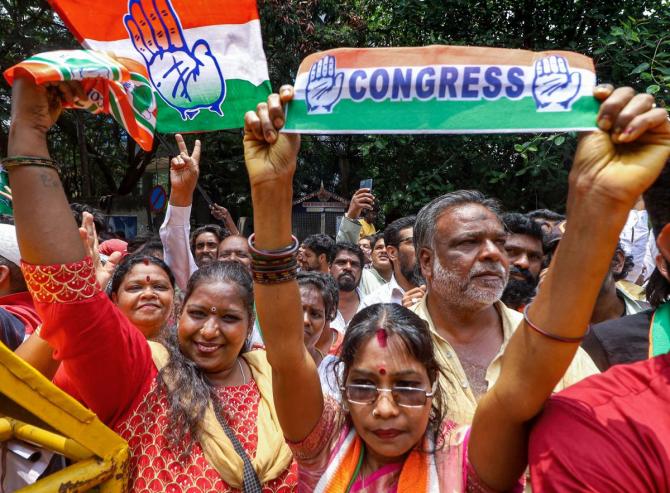 All eyes now seem to be on this, as the Siddaramaiah-led government assumes office on Saturday.
During campaigning for the May 10 assembly elections, Congress leaders, including Rahul Gandhi, repeatedly assured the voters that these five guarantees would be approved in the maiden cabinet meeting on the first day of coming to power.
The 'guarantees' found resonance with voters, particularly with women, and played a key role in the party's resounding victory, political analysts noted.
The Congress, which bagged 135 seats in the 224-member assembly, ousted from power the BJP, which won in 66 constituencies, while the Janata Dal-Secular managed to win only 19 seats.
Some BJP leaders have alleged that implementation of the 'guarantees' would push the state into bankruptcy, and have also claimed that the Congress would not honour its pre-poll promises fully.
These guarantees are: 200 units of free power to all households (Gruha Jyoti); Rs 2,000 monthly assistance to the woman head of every family (Gruha Lakshmi); 10 kg of rice free to every member of a BPL household (Anna Bhagya); Rs 3,000 every month for unemployed graduates and Rs 1,500 for unemployed diploma holders (both in the age group of 18-25) for two years (YuvaNidhi); and free travel for women in public transport buses (Shakti).
Key Congress leaders said earlier this week that the implementation of the five 'guarantees' may cost the state exchequer an estimated Rs 50,000 crore annually.
Leaders of the BJP and JD-S have also said they are watching keenly if the Congress would honour its promises fully.
Speaking to reporters before flying to Delhi on Friday, Congress state president D K Shivakumar said, "In the first cabinet meeting on the very first day we are going to implement all our guarantee schemes. We will keep our promises. You should witness this great historical moment."
When asked whether there will be conditions attached, he said he will not speak now but people will be informed about the decision once it is implemented.
"This is not D K Shivakumar or Siddaramaiah's guarantee. It is the Congress party's guarantee. We will do what we have spoken," he asserted.
Speaking to PTI, former Union Minister M Veerappa Moily said: "We are a responsible party. Responsible Congress leaders have evolved them (the guarantees), fully knowing their implications. We will be in a position to implement them."
According to the Congress's manifesto drafting committee vice chairman Professor K E Radhakrishna, these schemes will not cost more than Rs 50,000 crore annually in a state whose annual budget is around Rs 3 lakh crore.
He said the 'Gruha Lakshmi' scheme offering Rs 2,000 to every woman head of the family would apply for BPL families only, and not for all.
According to some Congress leaders, the 'Gruha Jyothi', 'Yuva Nidhi' and 'Shakti' schemes too are likely to be restricted to BPL families.
A senior bureaucrat said these schemes, if implemented in its actual form without any condition, will "stress" the state's economy. "Even if conditions are applied, it will burden the state economy," he added.
A retired bureaucrat who had helmed the city civic body Bruhat Bengaluru Mahanagara Palike said these schemes can be implemented only when there are strict austerity measures.
"There should be severe austerity measures, control on unnecessary expenditure, leakage prevention measures, curb on bogus bills, pre-audit of every public work and check on '40 per cent commission'. This apart, the Lokayukta should be given more powers to raid officers involved in wrongdoings," he said.
Social activist Kathyayini Chamaraj said instead of giving money as freebies, people should be empowered by skilling and training them.
According to her, the Congress, which introduced the Mahatma Gandhi National Rural Employment Guarantee Scheme, can introduce Urban Employment Guarantee scheme and pay money to women heads of families as well as unemployed graduates and diploma holders.
© Copyright 2023 PTI. All rights reserved. Republication or redistribution of PTI content, including by framing or similar means, is expressly prohibited without the prior written consent.