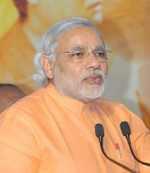 Union minister and senior Congress leader Salman Khurshid on Thursday said his party will "shatter the hype" generated by Gujarat Chief Minister Narendra Modi and expose high levels of malnutrition in children and disparity in incomes of rich and poor in the run-up to Assembly polls.
"We are going to shatter the hype generated by Modi during the poll campaign. The Gujarat Chief Minister has built an image of himself, which makes him appear as a champion of inclusive economic growth.
"We are going to call his bluff by posing very difficult questions relating to the incidence of malnutrition in children and disparity in the incomes of the rich and the poor," he told reporters in Allahabad.
Khurshid said though both may be a countrywide phenomenon, why was it that they are most acutely present in Gujarat despite the tall claims of sustained development.
Striking an optimistic note in the aftermath of charges of large-scale corruption against the Congress-led United Progressive Alliance government at the Centre, Khurshid said, "The Supreme Court has put its stamp of approval on our policies by virtue of its judgment on the presidential reference on the 2G spectrum allocations."
"It has now been established beyond doubt that there was no ill-intention in the government not exercising the auction alternative," he said.
Khurshid said the Opposition has been looking sideways ever since the five-judge bench gave its verdict. "Their diatribe against the government, earlier in the 2G case and more recently over coal block allocations, seems to have fallen flat. Our policies stand vindicated."
There may have been irregularities in implementation of the policies, but the same would be investigated and appropriate action taken, he said.
"The court of law has exonerated us. We now look forward to going to the court of the people with confidence. I am sure people will not be swayed by the malicious campaign that had been unleashed by the Opposition," he said.
Reacting to anti-corruption activist Arvind Kejriwal floating a political outfit, he said, "Now that he has entered politics, he must be ready to take the heat. So far, he has been lashing out against politicians and accusing them of some wrongdoing or the other. But henceforth he must be ready to answer tough questions regarding his own integrity and the transparency, or absence of it, in the NGOs that he is associated with."
Khurshid said, "As long as one is a boy dependent on his parents, one can have a good time. But once the boy gets married and starts a family, he has to shoulder a number of responsibilities. Kejriwal and his associates need to keep that in mind," he added.
© Copyright 2022 PTI. All rights reserved. Republication or redistribution of PTI content, including by framing or similar means, is expressly prohibited without the prior written consent.