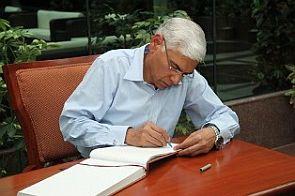 Congress slammed former Comptroller Auditor General Vinod Rai for his claim that he was pressurised to drop names of those involved in scams during the United Progressive Alliance regime, saying "sensationalizing" things has been his staple.
"If at all, he was under any pressure or he was being coerced either obliquely, directly, implicitly that certain people be named and others deleted, was it not incumbent upon him to make it public at that point of time," party leader Manish Tewari said.
He said Rai was perhaps "saving these little nuggets of sensationalism for what is a post-retirement pension plan these days -- that you write and create enough sensationalism around it."
Rai, whose book is due for release in September, has claimed that UPA functionaries deputed politicians to get him to leave out names from the auditor's reports on Coalgate and Commonwealth Games scams.
Tewari said Rai, who has already vitiated the public discourse by putting out "sensational numbers" about the scams in CAG reports, should revisit the entire issue. "It would be my pleasure to demolish the findings which he had come to in his report so that the nation comes to know conclusively what really was the truth," he said.
Hitting out at the former CAG, senior Nationalist Congress Party leader Tariq Anwar said if Rai was under any kind of pressure, he should have spoken then itself and made it public.
"But to speak about such things after a time period or after retirement has become a fashion in our country. It is a new trend to write a book after retirement and take up sensitive and sensational issues in it so that the sale of the book increases," he told reporters.
Janata Dal-United also questioned the timing of the disclosure, saying if Rai would have revealed it before, it would have been taken more "seriously". "He should have disclosed the matter before. It would have been taken more seriously," party leader Ali Anwar said, but noted that Rai's disclosure was not clear as to whether he was under any pressure.
Samajwadi Party leader Naresh Agarwal felt that Rai appears to be inclined on joining BJP. He suggested that "guidelines should be framed" against these kind of people so that they do not indulge in this kind of sensationalism.