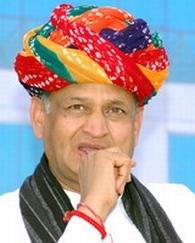 Rajasthan Chief Minister Ashok Gehlot and some of his cabinet colleagues, including Shanti Dhariwal, figure in the list of 63 Congress candidates for the forthcoming assembly polls, announced by the All India Congress Committee.
While Gehlot has been fielded from his pocket borough of Sardarpura, Dhariwal has been re-nominated from Kota North.
Assembly Speaker Deependra Singh Shekhawat has been fielded from Srimadhopur.
Former Members of Parliament Vishwendra Singh and Colonel Sonaram have been made the party candidates from Deeg-Kumher and Baytoo respectively.
Sportswoman Krishna Punia has been made the nominee from Sadalpur, former Pradesh Congress Committee chief B D Kalla is contesting from a seat in Bikaner while senior leader Raghu Sharma is contesting from Kekri.
State ministers Rajendra Pareek will contest from Sikar, Jitendra Singh from Khetri, B K Sharma from Hawamahal, A A Khan from Tijara, Ashok Bairwa from Khandar and Mahendrajeet Singh from Bagidora.
Chairman of Rajasthan Finance Commission B D Kalla will contest from Bikaner, West constituency.
Rajendra Gudha, who won the last elections as a Bahujan Samaj Party candidate and later defected to the Congress, was made the party's candidate from Udaipurwati constituency.
Image: Rajasthan Chief Minister Ashok Gehlot