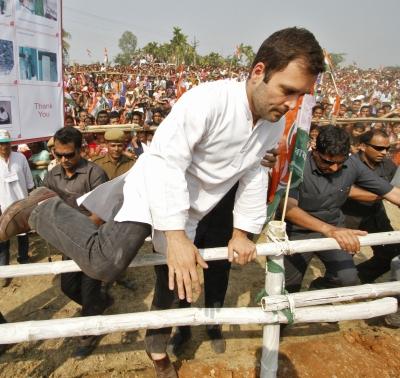 Congress Vice-President Rahul Gandhi had brought in the United States style 'primaries' with much fanfare to empower grassroot leaders to fight the Lok Sabha elections.
But most of the 16 constituencies under this experiment chose sitting Members of Parliament, senior leaders, their kith and kin or close associates, virtually defeating the purpose of the exercise.
The experiment witnessed several controversies in various states including in Delhi, Maharashtra, Karnataka and Madhya Pradesh on various counts including the selection of constituencies, charges of bogus voting and use of money power.
What was hailed as a pioneering experiment in Indian politics turned out to be one that came under attack from the party's own cadres.
After facing a rout in Delhi assembly elections last year, Gandhi announced in the All India Congress Committee meeting in January that 'primaries' will be held in 15 Lok Sabha seats on an experimental basis to give the grassroot workers a say in candidate selection.
The whole exercise began on a controversial note in Delhi, when Chandni Chowk represented by Kapil Sibal and North West Delhi represented by Krishna Tirath were put on the block only to be removed after the two protested.
The Congress leadership was keen that candidates in at least two Lok Sabha seats are chosen through the primary exercise in Delhi so that a candidate with the support of party cadres could be nominated to beat anti-incumbency.
The seats of New Delhi and North East Delhi, represented by former Pradesh Congress Committee chief Jayprakash Agrawal and Ajay Maken respectively, were chosen for the experiment.
Interestingly, Maken had a walkover because there was no rival.
Agrawal swept the poll with 252 votes while his rival, a former legislator, secured only 47 votes.
In Maharashtra's Wardha, Sagar, son of Congress MP Datta Meghe, won the 'primaries' by a slender margin of 46 votes over Charulata Tokas, daughter of the late Rajasthan Governor Prabha Rau.
The pulls and pressures in the faction-ridden Maharashtra Congress ensured that the constituencies up for 'primaries' were changed thrice before they were eventually held in Wardha and Latur.
First, they were to be held for the Aurangabad and Dhule seats but candidates there came to blows and Congress leaders openly opposed the idea.
Then Yavatmal was selected and dropped quickly.
Tempers also ran high in Madhya Pradesh where Meenakshi Natarajan won, securing 706 votes. Her rival candidate Surendra Sethi, a local leader, who got only 50 votes, accused Natarjan of "rigging by adding fake voters".
Former Union Minister Janardhan Poojary bagged the Dakshin Kannada seat in Karnataka, defeating U K Monu by 478 to 62 votes in another straight fight in the primaries.
This was only after the nomination of Petroleum Minister M Veerappa
Moily's son Harsha was rejected.
Congress MLA from Palitana Pravin Rathod won the primaries from Bhavnagar Lok Sabha seat in Gujarat. As many as 562 votes were cast.
Rathod got 303 votes, while three other candidates managed to get less than half of these votes together.
Congress leaders, however, refuse to accept that the selection of sitting candidates through 'primaries' in any way defeats the very idea, saying the purpose of the exercise is not to replace candidates in these seats but to ensure that only a candidate with the support of party cadres is chosen.
"Sitting candidates clearing primaries indicate that they have the support of party cadres," a senior party leader said.
However, there is also a section of leaders who believe that the experiment of primaries in seats held by the party is not logical and puts a kind of no trust in MPs even before they fight elections.
"This is fine in those seats where you do not have a sitting MP so that you can get the best candidate available or in seats where there are already indications of strong resentment against sitting MPs and chances that they could lose. But implementing 'primaries' in a blanket manner across all seats could be counter productive," said another party leader.
Gandhi had promised to implement this experiment across the country in the future depending upon its success in the pilot project.
Many within the party feel that since most of the voters in 'primaries' are local Congress workers, these could intensify infighting and groupism.
While the concept is a welcome one, some question its timing, noting that it could potentially lead to a bitter battle between rival supporters when Lok Sabha elections are around the corner.
They felt that the exercise should have been conducted six months ago. Accusations of using of money power and fake voters have also surfaced.
Under the 'primary' exercise a representative cross-section of party workers, leaders and other influences, satisfying certain criteria, from these Lok Sabhas decide the Congress candidate from their constituency by participating in a simple voting process.
The AICC had said that 'primaries' are one of the many ways by which a political party can decide its candidate for an upcoming election. It is a system which allows for a broader participation of party supporters in deciding who should be a candidate from their constituency from that party.
"It makes the ticket allotment process fair and more transparent. The Congress party is the first national party to bring in such a process in India," it claims.
Image: Rahul Gandhi, surrounded by his security personnel, crosses over a barricade after meeting villagers who were waiting to see him during a road show at Nagaon in Assam ' Photograph: Reuters
© Copyright 2022 PTI. All rights reserved. Republication or redistribution of PTI content, including by framing or similar means, is expressly prohibited without the prior written consent.