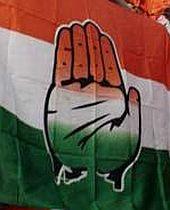 The Congress party headquarters in Ahmedabad wore a deserted look on Thursday as a few party workers had assembled there just before the counting of votes started
Pankaj Patel, the secretary, greeted the assembled reporters and said, "I am sure the Congress are going to win. At 11 am we are coming to power in Gujarat."
Talking about the exit poll predictions Patel said, "The exit polls in Uttar Pradesh was against Mulayam Singh Yadav but they still formed the government. We are confident of winning 112 seats in Gujarat."
Asked about the development work done by Chief Minister Narendra Modi, Patel said, "It is all fake. The BJP has never shown any consideration for the poor people. The development has only happened for the rich and the industrialists."
Another party worker, Vishal Solanki, said, "Modi's ugly face has been revealed and I am sure a large number of people have voted for us."
As the initial results show the BJP in the lead, despair can be seen on the face of party workers gathered there.
"Are you still confident of winning?" I ask Pankaj Patel who replies positively, "These are just initial results. Things will surely change in our favour."