'And Nana Patole fits the bill perfectly.'
'There is nothing wrong in being aggressive and today Patole is our angry young man.'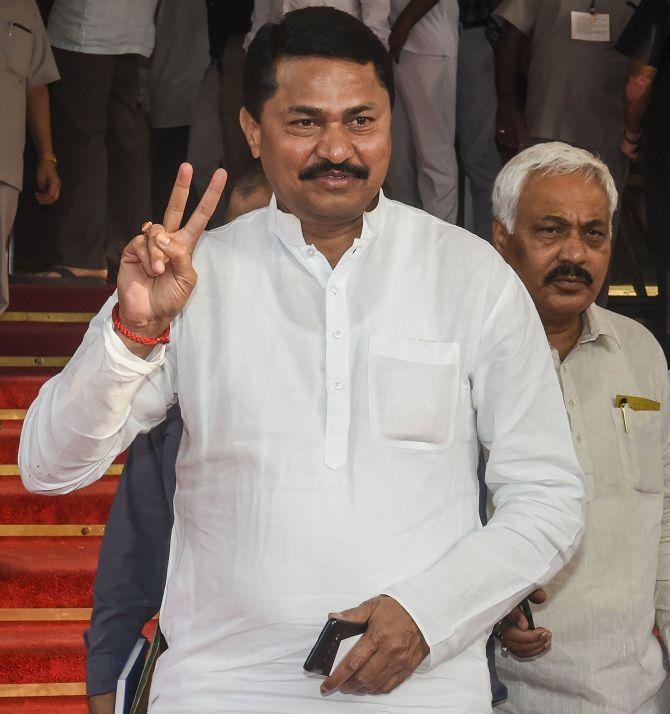 The Congress in Maharashtra is surprising political observers with its new-found aggression under Maharashtra Pradesh Congress Committee Nana Patole's leadership.
Patole, a former BJP MP from Gondia-Maharashtra, rejoined his parent Congress party in 2017 after he fell out with Prime Minister Narendra Damodardas Modi over statehood for Vidarbha. The 57 year old is fast emerging as the Congress's 'angry young man' in the state.
From taking on Nationalist Congress Party President Sharad Pawar to claiming that the Congress will emerge as the number one party in the state by 2024 when next assembly elections are due, Patole, who belongs to the influential Kunbi caste in Maharashtra's Vidarbha region, is hogging all the limelight these days, aggressively.
Despite his verbal sparring against Pawar over him being the three-party Maha Vikas Aghadi government's remote control and how he ditched the Congress in 2014 when the two alliance partners decided to fight the assembly elections independently, Patole insists he respects Pawar.
"I have never spoken against Pawar saheb," Patole tells Prasanna D Zore/Rediff.com.
"I have always considered him a tall leader and nobody can deny him that stature," Patole adds, pouring cold water on the theory that his recent remark against Pawar caused a rift among the Maha Vikas Aghadi's three constituents -- the Shiv Sena, NCP and Congress.
But Patole who was appointed MPCC Congress president the day after he resigned as Maharashtra assembly Speaker in 2020, gets aggressive when asked if the Congress will fight the 2024 assembly elections on its own.
"That issue we will face in 2024. We will take a call on that then. In the present situation, we want to expand and strengthen our base among the masses of Maharashtra," he says.
"Aggression is needed when you have to get your party to emerge as a strong contender for the number one position," says Patole. "We need that aggression to fight for getting justice to the deprived and raise the issues of price rise, employment, and development of the state."
"Nobody will listen to our pleas if we don't use aggression to raise these issues," he adds.
Ask any Congress leader in the state about this new found aggression and they echo Patole.
"We are all working with a single-minded focus of making the Congress the number one party in Maharashtra. We want to take Congress back to its glory days of being the top-most party in the state," asserts Mohammed Arif Naseem Khan, currently the Congress working president in the state.
"What wrong has Patole saheb done when he says that the Congress is working tirelessly to fight elections on its own strength?" Khan asks, "Every political party has that right."
"The Congress is in need of aggressive leadership and Nana Patole fits the bill perfectly. There is nothing wrong in being aggressive and today Patole is our angry young man," says another senior Congress leader and former minister in the 2009-2014 Congress-NCP government, speaking on condition that he would not be identified for this report.
Discussing Patole's statement that the NCP ditched the Congress on the eve of the 2014 assembly elections, the former minister says: "Didn't the NCP decide to contest elections independently in 2014? When such decisions are made at the last minute, it leads to a mad scramble. That time we were not able to find good candidates to fight the elections in 114 seats."
"The NCP too must have faced the same issue in some seats, but we faced more difficulties," he says, adding, ". Keeping in mind what happened in 2014, it must be said that we are well-prepared this time if such a situation arises."
"Every party would want to have a bigger share in seat-sharing for the 2024 assembly election and the Congress will not be an exception at that time," he says.
Interestingly, this senior Congress leader told Rediff.com that Congress would consider joining hands with the Shiv Sena for the forthcoming BrihanMumbai Municipal Corporation election if the latter plays ball.
"Even if the Congress were to agree to an alliance to fight the 2022 BMC elections, it doesn't look like the Shiv Sena will be too eager to do that," he says. "Their hunger is bigger; they must be thinking of winning a majority in the BMC on their own."
"Given this hunger it remains to be seen how they would respond to the idea of an alliance for the BMC election," he adds.
"We will definitely emerge as Maharashtra's number one party in 2024," says Patole about his vision 2024 for Congress. "Every political party aims to do that. Maharashtra has always been a Congress base and stronghold. Our responsibility is to further strengthen our roots in the state. With people's blessings we will surely emerge as the number one party in the state."
Ask Patole if his recent remarks of going alone in the 2024 assembly elections and statements against Pawar could create fissures in the MVA government, he says, "I am confident the MVA will complete five years."
"Government and political organisation are two separate entities. The MVA is doing a very good job and the Congress is also doing a good job of strengthening itself," says the state Congress president.
Khan denies that some senior Congress leaders are unhappy with Patole's aggression.
"There is no credibility to the news that some leaders in the state are not happy with Patole saheb's aggressive style of functioning and want him removed. All the leaders in the Maharashtra Congress are fighting unitedly to offer the best alternative to the people."
"The BJP," says Khan, "is rattled because despite their best efforts and dubious methods they have not been able to weaken the MVA government. They are in desperate need of power and hence planting such stories to create splits in the MVA. But we know how to beat them at this game."