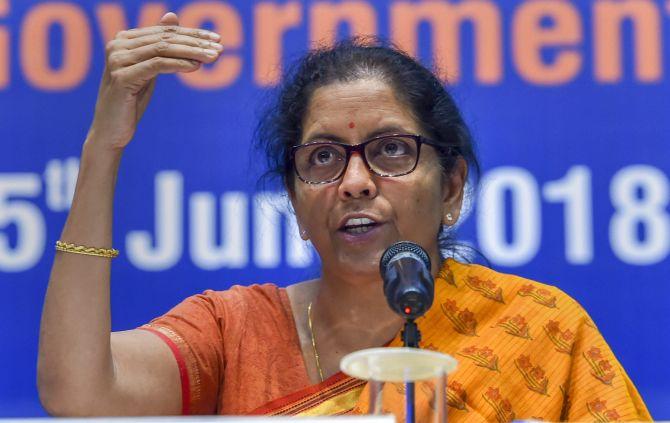 Defence Minister Nirmala Sitharaman on Saturday accused the Congress of running the Defence ministry 'probably with brokers and dalals' and said the party is now feeling restless since they could neither buy nor make money in the Rafale deal.
Sitharaman said, "Allegations are thrown every time the Congress becomes frustrated. They probably ran the Defence Ministry with a lot of brokers and 'dalals' in between. The current government is showing that it is possible to run the defence ministry without brokers."
"With brokers and 'dalals' they were still spending time and not buying important equipment that we need. The Congress is now feeling restless because they couldn't buy, they couldn't make money. They couldn't perform and left the Air Force where it was," she said.
The Defence Minister's comments came as she addressed a detailed press conference on the occasion of the second anniversary of the surgical strike and touched upon a number of issues including infiltration, Rafale deal and Defence cooperation with Russia among others.
On being asked about speculations of Dassault and Hindustan Aeronautics Limited (HAL) having some 'working agreement' in the past, the defence minister clarified, "There isn't anything called a working agreement, negotiations happen. No agreement with HAL was made even during the past regime."
Sitharaman also rubbished former French president Francois Hollande's claim that Reliance Defence was nominated by the Indian government to partner with Dassault Aviation for the deal, asserting that this matter would have international implications.
She said, "It's a commercial agreement with a company in France with a company in India. There are 70-80 companies with whom Dassault is going with the agreement. Former French president had said that they were given no option, so does it mean we gave a list of 70-80 companies and said to go ahead with all these? This matter will now have an impact on international relations.
"I am not saying it is true or not, but former president of France is facing an allegation of his associate having received some funds for some purpose and in such a situation, he said this. Does it mean that he just wanted to say something to divert (attention of) journalists?"
"The intergovernmental agreement does not name anybody. If on a commercial consideration, a company goes to have an agreement with another company, it is their look out to see who they have to go with," she added.
Sitharaman also accused the Congress-led government of delay in decision making which hampered the operational readiness of the Air Force.
"Every comparison that is being made, be of the price, procedure, etc are all with that situation where the UPA (United Progressive Alliance) did not buy it, did not had a contract with anybody, the UPA delayed its decision making.
"When the squadron strength of the Air Force was drastically falling down from 42 squadrons to 33, they just kept spending time without having any consideration for the operational readiness of the Air force," she said.
Speaking on S-400 air defence negotiations, she asserted, "Negotiation on S-400 air defence systems has been on for a long while and it is at a stage where it can be finalised. We have a big legacy of buying Defence equipment from Russia and even today many of these equipment are still working. Our continuing Defence cooperation with Russia is a big legacy issue."
On being quizzed about the alleged politicisation of the surgical strike, Sitharaman said, "Surgical strikes happened because we are repeatedly having these attacks in the name of many non-state actors who are intruding and we are trying to eliminate them.
"In an unfortunate incident they managed to get into a military base and attacked people who were sleeping and we did attack back. Our soldiers did their duty after facing unprovoked attack in their own military base. Is it wrong to retaliate in this given circumstances? If the soldiers have taken this action, are we to be ashamed of it?"
Replying to a question of alleged rise in infiltration, the Defence Minister said, "There are intrusions in the border and we are also eliminating a lot of them at the border itself. I would believe an action of this kind would deter Pakistan from training and sending in the terrorists. My action will continue at the border irrespective of whether they have learned a lesson or not."
Sitharaman, however, refused to comment on Union Home Minister Rajnath Singh's cryptic comment in which he had said that, 'something big has happened in past two-three days across the border to avenge the brutal killing of the soldier'.