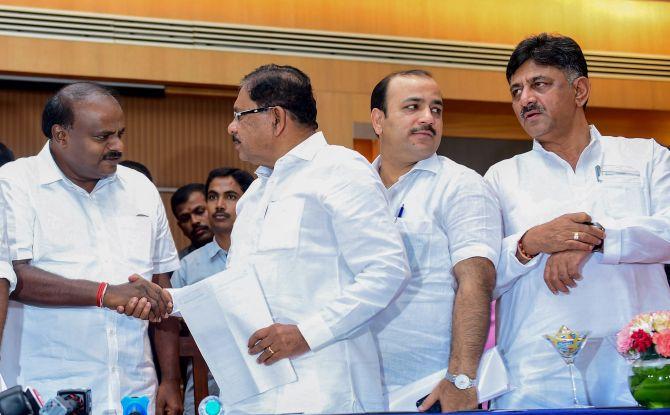 The Congress-Janata Dal (Secular) ruling coalition in Karnataka on Monday held the second round of talks on the tricky issue of seat sharing for the upcoming Lok Sabha polls, with the Congress saying they were moving 'in the right direction'.
Cong MLA Umesh Jadhav resigns from assembly
Dealing a blow to the ruling coalition in Karnataka, rebel Congress MLA Umesh Jadhav on Monday submitted his resignation from the state assembly to Speaker Ramesh Kumar, amid reports that he might join the Bharatiya Janata Party.
Jadhav, who sided with the rebel faction led by Ramesh Jarkiholi which threatened to topple the JD(S)-Congress coalition government recently, is a two-time MLA from Chincholi in Kalburagi district, a bastion of senior Congress leader Mallikarjun Kharge.
The MLA met the Speaker and submitted his resignation, secretariat sources said.
Sources close to Jadhav told PTI he intends to join the BJP on Wednesday.
Jadhav is reportedly being considered by the BJP to be fielded against Congress veteran Kharge from Kalaburgi constituency in the Lok Sabha polls.
The MLA was reportedly unhappy with the 'autocratic' style of Social Welfare Minister Priyank Kharge, son of Mallikarjun Kharge.
Jadhav was among the four MLAs -- Ramesh Jarkiholi, B Nagendra and Mahesh Kumathali -- who were reported to be in touch with the BJP, which was accused of trying to poach the MLAs to bring down the JD(S)-Congress government recently.
The four lawmakers, who had gone missing for several weeks amid political turmoil, had surfaced in Bengaluru on February 13, two days after the party recommended their disqualification to the assembly Speaker.
The four MLAs had kept the party on tenterhooks for several weeks, defying its whip twice to attend the Congress Legislative Party (CLP) meetings on January 18 and February 8 and had been skipping the assembly Budget Session.
After the MLAs refused to fall in line, the Congress had petitioned Speaker to disqualify them under the Anti-Defection Law.
Commenting on Jadhav's resignation, Dinesh Gundu Rao said he was enacting a 'drama' by promising to remain loyal to the party.
"He shouldn't forget that whatever he's today is because of Congress. Anyone can come and go but the party will remain forever," Rao told reporters.
He asserted that the other Congress MLAs will remain with the party.
KPCC working president Eshwar Khandre said Jadhav had 'ruined his career' by quitting the party as the Speaker is yet to take a decision on his disqualification.
"Once disqualified, he cannot contest elections," Khandre said.
The two parties had begun formal talks last week with the JD-S insisting that 12 of the total 28 Lok Sabha seats be conceded to it, but party supremo and former Prime Minister H D Deve Gowda indicated on Sunday that they were ready to compromise.
The two allies, who had formed the government after striking a post-poll alliance as the May 2018 assembly elections threw up a hung verdict, had announced earlier that they would fight the Lok Sabha elections together.
The Congress-JD(S) coalition coordination committee chairman and former chief minister Siddaramaiah told reporters they had a good detailed discussion about every constituency.
"We are moving in the right direction," Siddaramaiah said after the coordination committee meeting in Bengaluru.
Chief Minister H D Kumaraswamy, JD-S general secretary Danish Ali, Karnataka Pradesh Congress Committee chief Dinesh Gundu Rao attended the meeting.
JD-S has put forth its demand with a list of candidates to contest for 12 seats.
"We have not given a final shape to it. We will give it in the coming days," Siddaramaiah said.
He added that the leaders were zeroing in on who can win and from where.
Discussions have not been completed yet, but there was good progress, he said.
"I hope that we will give a final shape in three-four days before March 10," Siddaramaiah added.
The Mandya Lok Sabha seat has become a bone of contention between the two parties with JD-S deciding to field Kumarasawmy's son and Deve Gowda's grand son Nikhil Kumaraswamy.
The JD-S leadership, dominated by Vokkaligas, treats Mandya as its bastion, as the constituency has a substantial Vokkaliga population.
On the other hand, multi-lingual film actor Sumalatha, widow of noted Kannada film star Ambarish, has also evinced interest in contesting from there on Congress ticket.
Asked about the JD-S hinting that Nikhil Kumaraswamy would contest from Mandya even before the list got finalised, Siddaramaiah said, "Can we say no to a candidate who has winnability there?"
Ali said some more discussions were needed, but the final meeting would take place between Deve Gowda and Congress president Rahul Gandhi.
Seat sharing will be a major test for both parties as the JD-S, banking on two-third, one-third formula adopted in ministry formation and allocation of boards and corporations, has demanded 12 seats out of the total of 28.
The Congress is opposed to this, maintaining that sharing of seats will be based on 'merit'.
Also, there is pressure from within Congress not to cede too many seats to JD-S, especially the 10 seats where the party has sitting MPs.
Sharing of seats from old Mysuru region is expected to be an acid test for both parties, as the JD-S considers it as its bastion, and the Congress has its sitting members from most of the seats there.