For all the issues that the Congress party is grappling with currently, it is observed that a victory in the May 10 Karnataka elections could mark a revival of its political fortunes, bolstering its position and strengthening its credentials as the main opposition party against the ruling Bharatiya Janata Party at the Centre, ahead of the 2024 Lok Sabha elections.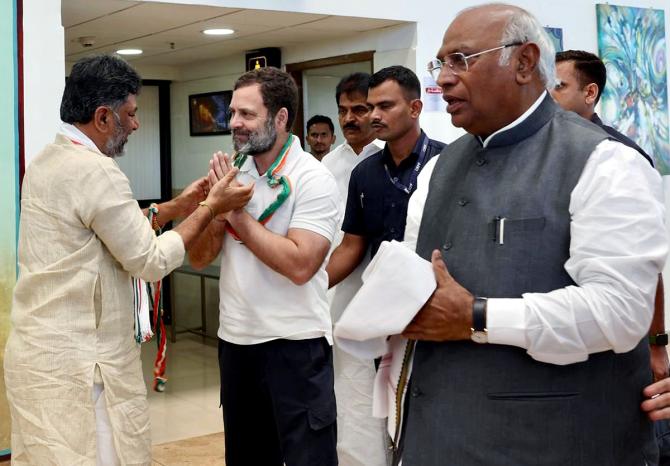 By ensuring a win in Karnataka, the party also wants to bounce back after the recent losses in the northeastern states, and give it a momentum of sorts to take on the battle-ready election machinery of the BJP, later this year in the Hindi heartland states of Madhya Pradesh, Chhattisgarh and Rajasthan.
The Congress seems to be heading for the Karnataka polls so far on the strength of its local leadership and focusing on issues concerning the state, making corruption a central theme of its campaigning.
This polls is also a prestige battle for the grand old party with a Kannadiga M Mallikarjun Kharge, who hails from Kalaburagi district, at its helm, as the national President.
However, the Congress also faces the challenge of keeping at bay the intense factionalism, especially between the camps of its two chief ministerial aspirants -- Siddaramaiah and Shivakumar -- who are often seen to be engaging in political one-upmanship for some time now.
Here is a strengths, weaknesses, opportunities, threats analysis of the Congress in the home state of AICC president Kharge.
Strengths
Strong local leadership with DK Shivakumar (a Vokkaliga) and Siddaramaiah (a Kuruba who is considered to have a strong backing of AHINDA - a Kannada acronym for 'Alpasankhyataru' or minorities, 'Hindulidavaru' or backward classes, and 'Dalitaru' or Dalits) at the helm.
Mallikarjun Kharge as AICC President and ability to consolidate Dalit votes in party's favour.
Focus on local issues and an aggressive "40 per cent commission or corruption" campaign against the BJP government.
Poll guarantees such as 200 units of free power to all households, Rs 2,000 monthly assistance to the woman head of every family,10 kg of rice free to every member of a BPL household, and Rs 3,000 per month to every graduate and Rs 1,500 per month to every diploma holder, as unemployment allowance.
Weaknesses
Factionalism and infighting, especially between the camps of Siddaramaiah and Shivakumar.
Disgruntlement among other senior leaders like G Parmeshwara, H K Patil, K H Muniyappa and others over being sidelined.
Failurue to expand its votebase among Lingayat community.
Not-so-strong central leadership that can keep the party united in case of revolt within.
Opportunities
Anti-incumbency against BJP government.
Prospects of increasing vote-share on the back of a strong campaign against BJP's over alleged corruption and 40 per cent commission charges.
Prospects of Lingayats (a community that largely supports BJP) unhappy on the issue of reservation, turning towards Congress, coupled with the party's efforts to reach out to the community.
Consolidating Minority votes.
Many JD-S leaders deserting the party to join Congress and thereby increasing prospects in the Old Mysuru region.
Threats
Modi factor giving an edge to BJP.
Possible disgruntlement and revolts following the ticket distribution, with too many aspirants.
Factional feud and possible rifts among the leaders to get tickets to their loyal supporters.
JD-S regaining lost ground in the Old Mysuru region.
© Copyright 2023 PTI. All rights reserved. Republication or redistribution of PTI content, including by framing or similar means, is expressly prohibited without the prior written consent.