The Congress has distanced itself from Khurshid's remarks, saying it is his personal view.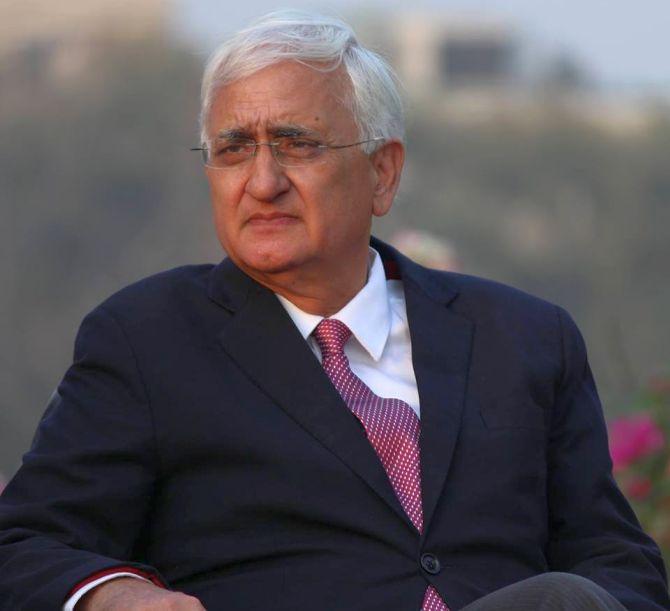 The Congress was left red-faced on Tuesday after its senior leader Salman Khurshid said its hands were stained with blood, forcing his party to distance itself from his comments but the Bharatiya Janata Party seized on them to claim that it was an 'acknowledgement' of its history of 'engineering communal riots'.
The former Union minister stuck to his guns after the remarks made at an event in Aligarh Muslim University on Sunday went viral as he told reporters today that he will continue to say what he said.
He had made the remarks at the university in response to a student accusing the Congress of having Muslim blood on its hands and asking how the party proposed to wash it off.
"It is a political question. There is blood on our hands. I am also a part of the Congress so let me say it, we have blood on our hands," said Khurshid, triggering a row.
The Congress said it 'disagreed completely' with Khurshid and termed his comments as his personal views.
Speaking to reporters in New Delhi, Congress spokesperson P L Punia said, "All leaders must remember that such unfounded statements only help the cause of those in power today who seek to divide the society on caste and communal lines to retain and attain power at any cost."
The BJP latched onto Khurshid's remarks to take aims at the Congress with Union minister Mukhtar Abbas Naqvi raking up a number of riots, including in Bhiwandi, Bhagalpur and Malegaon besides the one against Sikhs in 1984.
What Khurshid had uttered was an 'acknowledgement' of the Congress' history of 'engineering communal riots', he said, adding it continued to practise the same politics of creating division and tensions to get votes.
Naqvi said the Congress always wore a mask of secularism but practised communalism and added that people wanted it to 'accept' truth and come clean after Khurshid made his 'individual confession'.
More than 50,000 riots had happened under its governments in which thousands of innocent people were killed, he claimed.
Punia said the Congress was the only party that worked towards building an egalitarian society by carrying all sections of the people, including SCs/STs and minorities before and after Independence era. The intrinsic values, he alleged, were under attack now with the BJP in power.
Attacking the Congress, Naqvi said, "The Congress is a history-sheeter as far as communal riots are concerned. It has practised politics of divide and rule while using castes and communities to sow division in society. It created social tensions for votes. It continues with this tradition," he said.
Asked by reporters here if he would stick to his comments, Khurshid said, "Have you ever known me to withdraw a statement? What I said, I will continue to say. What I didn't say, I will never say."
Asked if he made the remarks as a member of the Congress, Khurshid replied he did so 'as a human being'.
"It's the party that has given everything that I have today. And why should I step aside when my party is attacked? I must answer anyone who attacks my party and I do it to the best of my ability," he added.
Asked if the party would take action against Khurshid, Punia evaded a direct reply, saying he need not add to what he stated.