The Congress has sent 40 of its legislators to a resort outside Bengaluru to fend off "poaching" attempts by the Bharatiya Janata Party ahead of the crucial Rajya Sabha polls in Gujarat.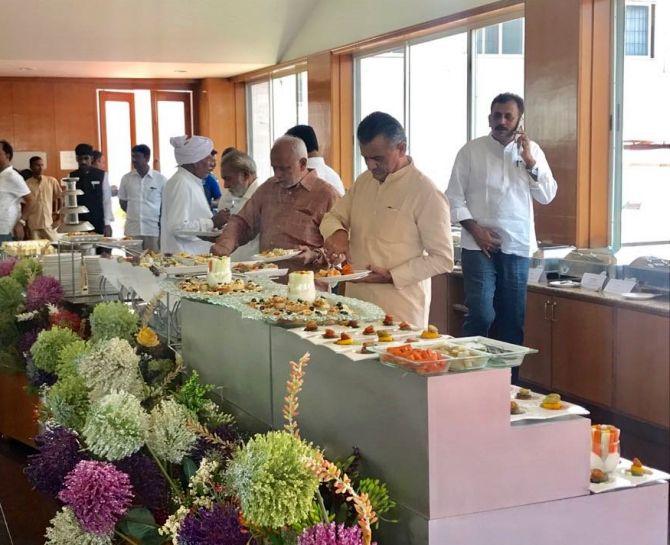 "Forty Congress MLAs have been taken to Bangaluru so far. Four more will join them," a senior party leader said on the condition of anonymity.
The Congress in the state is rattled by the resignations of six MLAs in the last couple of days, ahead of the Rajya Sabha election in which the party has fielded Sonia Gandhi confidante Ahmed Patel as a candidate.
The erosion from its legislature party has cast a shadow on the fate of Patel as the party has to zealously guard against further desertion to ensure his victory in the poll due to be held on August 8.
Earlier, Congress' state general secretary Nishit Vyas had claimed that the party had taken 44 MLAs to Bengaluru and they were lodged in a resort around 50 km from the city.
Gujarat Congress legislature party chief whip Shailesh Parmar said, "Three MLAs, including me, Shaktisinh Gohil and another one, are yet to reach Bengaluru. Another MLA is on a tour and he will reach Bengaluru directly. Shaktibhai and myself had to remain here due for scrutiny of Rajya Sabha poll nominations forms."
"All of us, who are here in Gujarat, will leave for Bengaluru tonight or tomorrow morning," Parmar said.
The name of the resort, where the MLAs have been put up is Eagleton, sources said.
State Congress in-charge Ashok Gehlot claimed, "This has been done to protect our MLAs. They are being threatened to join the BJP, which is using muscle, state and money power to poach our legislators."
"The mobile phones of the MLAs have been taken away as nobody can threaten or coerce them," he added.
Chief Minister Vijay Rupani dismissed the Congress' claims.
"This is the internal problem of the Congress as its leader of opposition Shankarsinh Vaghela, its chief whip Balwantsinh Rajput and spokesperson Tajeshriben Patel have quit as they faced difficulties. They have taken their MLAs to Bengaluru as they do not have faith in their MLAs," he said in Rajkot.
A section of the Congress legislators claimed that seven MLAs decided against going to Bengaluru. The seven include Vaghela, who has already quit the party, and his MLA son Mahendrasinh Vaghela. Others, who have not joined are Raghavji Patel of Jamnagar South Seat and Dharmendrasinh Jadeja of Jamnagar North seat.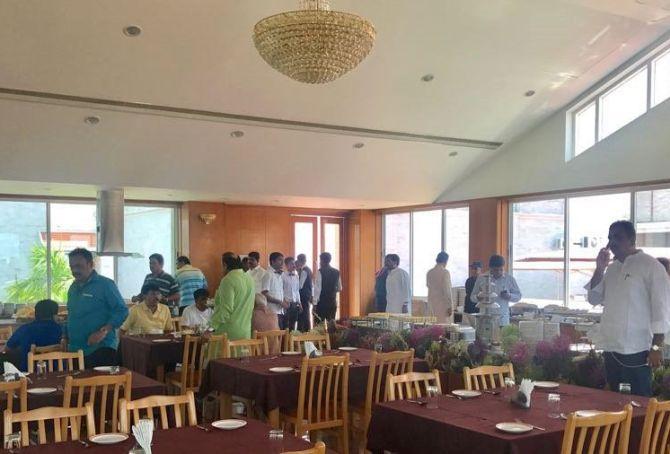 "Some of the MLAs, who have not reached Bengaluru, are not traceable by the party," sources said.
Party sources said Bengaluru was chosen as the Congress has its government in Karnataka.
Gujarat Pradesh Congress Committee Chief Bharat Solanki alleged that the BJP was playing "dirty politics".
"It is luring our MLAs with money, muscle and state power. In such circumstances, our MLAs decided that we should remain together and so they have gone to Bengaluru," Solanki had told reporters on Friday.
Congress spokesperson Randeep Surjewala has demanded that the Election Commission lodge a criminal case against the BJP for poaching its MLAs using "money and muscle" power.
The BJP leaders and even Vaghela slammed the party for taking the MLAs to Bengaluru when some parts of the state were facing floods.
"I think at least MLAs of Banaskantha district which is the worst affected by floods should not have gone on tour when people are facing hardships," he said.
Vaghela further said that he would not give resignation as MLA till August 8.
Gujarat Deputy Chief Minister Nitin Patel said at a time when the people of North Gujarat were facing problems due to excessive rains, the entire Congress had gone to Bengaluru to "enjoy".
In the 182-member Gujarat Assembly, the strength of the Congress has gone down to 51 from 57, following the resignations of six MLAs.
The BJP has fielded party president Amit Shah, Union minister Smriti Irani and former Congress MLA Balwantsinh Rajput, who joined the BJP on Thursday.
Of the total 11 RS members from the state, the term of three--Irani and Dilipbhai Pandya (both BJP) and Ahmed Patel--is ending on August 18.
IMAGES: Gujarat Congress MLAs in a Bengaluru resort. Photographs: ANI