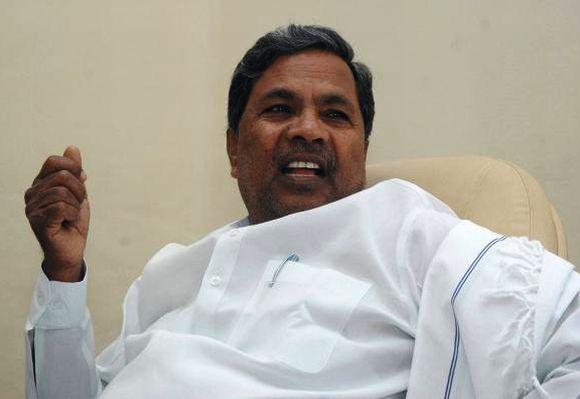 The Congress on Sunday dropped its candidate for Madikeri, H S Chandramauli, who represented fugitive diamantaire Mehul Choksi as his lawyer and allotted a second constituency to Chief Minister Siddaramaiah, as it released the second and final list of nominees for the May 12 Karnataka assembly polls.
The party also confirmed a ticket to sitting MLA N A Harris, who was embroiled in a controversy after his son was involved in a brawl at an upscale city pub-cum-restaurant recently, causing a major embarrassment to the ruling Congress ahead of the polls, with the opposition using the incident as a stick to beat it with.
His son Mohammad Nalapad is now in judicial custody in connection with the alleged brutal assault on a man, who was badly injured.
The Congress that had announced a list of 218 candidates in one go for the 224 member Karnataka legislative assembly on April 15, had kept the names of candidates for six seats on hold.
They included Sindgi, Nagathan, Kittur, Raichur, Shantinagar and Melukote constituencies.
Sunday's list, while announcing candidates to all these seats, has replaced candidates in six other constituencies.
From Kittur, the party has fielded senior leader D B Inamdar, Vithal Dhonidiba Katakdhond from Nagthan, Mallanna Niganna Sali from Sindgi, Sayed Yasin from Raichur and N A Harris from Shantinagar.
According to party sources, the Congress is expected to support farmers' leader the late Puttannaiah's son Darshan Puttannaiah (Swaraj India) in Melukote constituency.
Among constituencies for which candidates were replaced include Badami, the second constituency from where Siddaramaiah will be contesting.
Earlier, the party had named Dr Devraj Patil as its nominee in Badami, from where Siddaramaiah will be filing his nomination on April 24.
Siddaramaiah, who has already filed his nominations from Chamundeshwari constituency in Mysuru, has been saying he was under pressure from local party leaders in Bagalkote and Vijayapura districts to contest from Badami, as it would boost the party's prospects in the region.
Badami, with a strong presence of Kurubas, the community to which Siddaramaiah belongs, is seen as a safer option for the chief minister as reports have suggested that the battle in Chamundeshwari will not be an easy one for him.
The other prominent replacement is from Madikeri, where Chandramauli, the lawyer who represented Choksi, has been replaced by K P Chandrakala.
Chandramauli's candidature had led to Congress coming under intense criticism from the Bharatiya Janata Party.
The BJP had hit out at the Congress for giving a ticket to Chandramauli, alleging that "Choksi enjoyed the patronage, strength and support of Rahul Gandhi in the party."
Gandhi has in the past dismissed BJP's charges of having links with Choksi, who is the main accused in the $2 billion Punjab National Bank fraud.
"Choksi was the third son-in-law of the Congress after Vadra (Priyanka Gandhi's husband Robert Vadra) and Vijay Mallya, who is also an accused in a bank fraud," BJP spokesman G V L Rao had alleged.
Chandramouli was Choksi's advocate when he moved the Karnataka high court in 2016 against the state government and S V Hariprasad, a city-based businessman, who had filed the complaint of cheating against Choksi, BJP leaders had claimed.