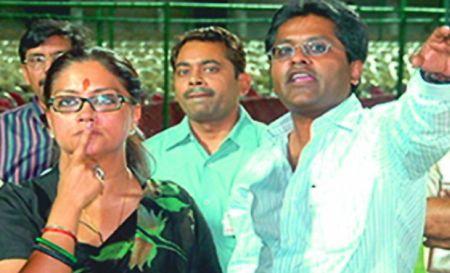 All India Congress Committee General Secretary Gurudas Kamat on Saturday demanded a Central Bureau of Investigation probe into the alleged money deals worth crores of rupees between Rajasthan Chief Minister Vasundhara Raje, her MP son Dushyant Singh and the tainted former Indian Premier League chief Lalit Modi.
"The black money routed through Lalit Modi was deposited in the accounts of Raje and Dushyant and the BJP was silent on the issue of black money", the Congress leader said while addressing party workers in Bharatpur.
"The CBI probe should be ordered into the money deals struck among Raje, her son Dushyant and Modi", he said, adding investigation be made under the Prevention of Money Laundering Act.
"In view of the present political circumstances and the Raje government's volatile situation, there is a possibility of mid-term assembly polls in Rajasthan. Hence the party workers should get ready for polls, and uproot the BJP which is involved in neck-deep corruption. Next government in Rajasthan would be of Congress party", Kamat said calling upon the workers.
Dholpur City Palace was a property of the government, and Raje and her son had no legal right in it, Kamat alleged. Accepting the Bharatiya Janata Party's allegation why the Congress did not take any action against Raje and her son during its tenure in the Dholpur Palace matter in Rajasthan, Kamat said it was "our mistake". "But Rs 100 crore obtained from Modi was invested in Dholpur Palace to convert it into a hotel," he blamed.
Also addressing the workers, PCC president Sachin Pilot alleged that there was no action, arrest or resignation of those whose names figured in black money scams, because Prime Minister Narendra Modi's intentions were not clear and pure. On one hand the farmers were committing suicide, on the other hand PM was undertaking foreign tours one after another, Pilot remarked.

Image: Rajasthan CM Vasundhara Raje with former IPL chief Lalit Modi. Photograph: PTI