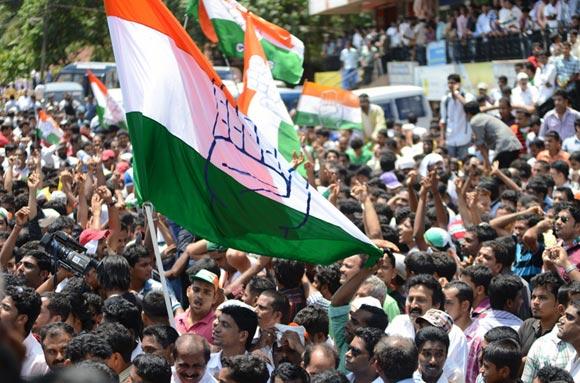 In a shot in the arm for the ruling Congress in Karnataka, the party on Monday won two seats, wresting the prestigious Bellary Rural from the Bharatiya Janata Party which managed to retain one constituency in the fiercely fought August 21 bypolls.
In a blow to the BJP, the Congress' N Y Gopalakrishna trounced BJP's Obalesh by a margin of 33,104 votes in Bellary Rural, represented earlier by B Sriramulu, who vacated the seat after becoming a Lok Sabha member.
Sriramulu, once considered a trusted lieutenant of mining baron and former minister Janardhana Reddy, had won Bellary Rural in the 2013 assembly polls as the candidate of his outfit BRS before rejoining BJP ahead of Lok Sabha elections.
In Shikaripura, the BJP managed to retain the seat with B Y Raghavendra, son of party National Vice-President and former Chief Minister B S Yeddyurappa, winning by a margin of 6,430 votes against Congress' H S Shantaveerappa Gowda in a closely fought battle.
Yeddyurappa had won the Shikaripura seat in the 2013 assembly elections by a margin of over 24,000 votes as the candidate of Karnataka Janatha Paksha, his outfit which merged with BJP months before the Lok Sabha polls. He had represented Shikaripura seven times before making his debut as a Lok Sabha member from Shimoga in the last polls.
The Congress retained its traditional stronghold of Chikkodi-Sadalga, where its candidate Ganesh Prakash Hukkeri defeated BJP's Mahantesh Kavatagimath by 31,820 votes.
The poll outcome has come as a big booster for Chief Minister Siddaramaiah, as it is expected to put murmurs of discontent against his style of functioning within his party in a mute mode at least in the near future.
The Congress had played for high stakes in the elections, the first test of popularity after the Lok Sabha polls which saw a resurgent BJP winning 17 of 28 Lok Sabha seats in Karnataka.
The Congress, which put up a sterling performance in the 2013 assembly polls unseating the BJP's first-ever government in the South, had won just nine Lok Sabha seats and Janata Dal-Secular two.
Former Prime Minister H D Deve Gowda led JDS, now facing dissatisfaction among its members of Legislative Assembly over leadership's functioning, had not fielded candidates in all the three constituencies.