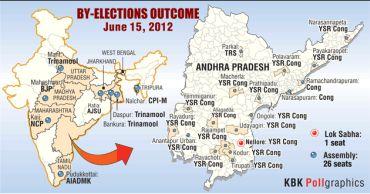 Stunned by the defeat in the by-elections at the hands of the YSR Congress in Andhra Pradesh, both the ruling Congress and the main opposition Telugu Desam Party were trying to come to terms with the reality and decipher its meanings.
The TDP, which has drawn a complete blank in the by-elections to 18 assemblies, has convened a meeting of its politburo on Saturday to analyse the results. In his first reaction to the outcome, TDP president N Chandrababu Naidu said that the sympathy created by the arrest of Jaganmohan Reddy helped the YSR Congress party's performance.
"We campaigned to the best of our ability. Before that we agitated on the issues of farmers and the price rise", he said, wondering whether the TDP had failed as an opposition as it could not benefit from the fight between the Congress and Jaganmohan Reddy.
Another TDP leader M Narasimhlu said that that their party had nothing to lose or gain from this by-election as the seats belonged to the Congress party and they were wrested by Jaganmohan Reddy.
"YSR Congress won because of the sympathy factor", he said.
While Chief Minister N Kiran Kumar Reddy did not react on the poll results, state Congress president Botsa Satyanarayana said that the party will undertake a detailed analysis of the by-election results. "The results are an early warning for the Congress party. They will help us in better preparations for the 2014 elections", he said.
Thanking the people for supporting Congress in two constituencies, Satyanarayana said that the ups and downs were part of a democratic system.
"The hike in petrol price and the problems in power supply could also be reasons for these results", he said, adding that if the minimum support price for paddy was announced a little earlier, it would have been good.
Meanwhile, the Bharatiya Janata Party was also in for a big shock. The party, which had seen itself as a favourite in Parkal constituency of Telangana, came fourth. Its candidate Vijaychandar Reddy polled only 9,160 votes out of the 1.57 lakh total votes polled.