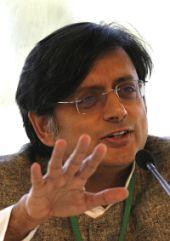 The Congress on Wednesday snubbed Union minister Shashi Tharoor for his tweet favouring making public the identity of the Delhi gang-rape victim and naming the proposed anti-rape legislation after her.
"It is his personal opinion. I suggest that since he is a part of the government, he should have given the suggestion to the government rather than making any such statement in public. Party forum is also open for giving suggestions.
"It would have been better had he given this advice to the government as after all the decision has to be taken at their level and Home Minister (Sushilkumar Shinde) has to take the decision," party spokesperson Rashid Alvi told mediapersons in New Delhi.
Tharoor, Minister of State for Human Resources Development, had on Tuesday favoured making public the identity of the gang-rape victim wondering what interest was served by keeping her name under wraps.
He also said the revised anti-rape legislation should be named after the victim if her parents do not have any objection.
Congress' disapproval of Tharoor's remarks has interestingly come on a day when the family of the victim said it had no objection to naming the proposed new anti-rape law after the girl.
Alvi, however, said "there is no such practice in our country where laws of Indian Penal Code are named after indviduals, unlike in the US where they are named after the senators who move the bills.
© Copyright 2021 PTI. All rights reserved. Republication or redistribution of PTI content, including by framing or similar means, is expressly prohibited without the prior written consent.