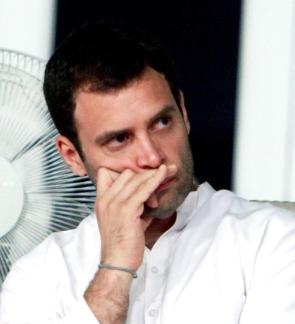 With his surprise sabbatical "for a few weeks" sparking speculations, the Congress on Monday jumped in to damage control asserting that Rahu Gandhi will actively take part in all party processes after he comes back from the leave in near future.
The Congress vice president's going on leave was announced on the eve of the Budget session of Parliament in which the party had earlier decided to target the government in a big way on land ordinance issue and Rahul himself was slated to lead a party agitation at Jantar Mantar on Wednesday.
He will not be able to attend Wednesday's event and he is likely to remain absent from Parliament in its crucial first week when the general budget and railway budget are to be presented.
His sudden leave has set off speculations about his future role in the party and also that he was unhappy with lobbies of some senior leaders close to the party chief, whom he wanted to go in the upcoming All India Congress Committee reshuffle soon.
Some of the ideas of the Congress vice president on party reforms have not found favour with a dominant section of the old guard and the tension between the two sets of viewpoints have been reflected time and again, party sources said.
Party spokesperson Abhishek Singhvi, however, rejected the speculations saying he "condemns and denies such unjustifiable" questions". He said Rahul requested the Congress President Sonia Gandhi that he needs a few weeks time to "reflect both on recent events related to the party and its future course" as he believes that this "introspection" is vital for the party.
"He (Rahul) believes that the AICC session (expected in the first week of April) is vital and he would like to give specific inputs on this. He wants to do introspection with what happened with regard to the Congress in recent times and earlier," Singhvi said.
The Congress spokesperson said that after applying his mind on these issues, Rahul will "return to resume his active participation in political affairs of Congress."
One of the possibilities being speculated was that Rahul could be made party president replacing Sonia Gandhi at the AICC meet.
Singhvi, however, chose to duck the question on whether Rahul could excuse himself from this role now after a string of electoral defeats for the party under his leadership. "He has sought time to reflect on recent events and future course of the party. It has nothing to do with his role in the party. He has gone to reflect on party affairs and not on his role," he said.
Singhvi also said all the ideas germinated and nurtured by Rahul are being implemented in the party. "All other speculations are denied and condemned. They are unfair," he said.
In a surprise move, Rahul Gandhi went on a sabbatical "for a few weeks" following the party's wipe-out in Delhi assembly elections on top of a string of electoral losses, setting tongues wagging about his future plans.
Image: Congress Vice President Rahul Gandhi