Congress party leaders have admitted that the situation in Assam is far more serious in comparison to Maharashtra with the exit of Himanta Biswa Sarma. Rediff.com contributor Anita Katyal reports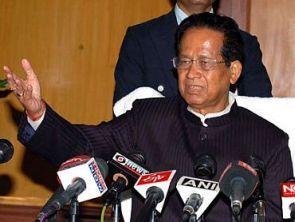 The Congress has made it clear it will not act under pressure even as it faces mounting rebellion from its state units.
The crisis deepened on Monday after senior leaders in Assam and Maharashtra revolted against their respective chief ministers. There were also reports of Haryana Congress leader Birender Singh and former MP from Jammu and Kashmir Lal Singh threatening to leave the Congress.
In Maharashtra, senior Congress leader Narayan Rane, who has been demanding the removal of Maharashtra Chief Minister Prithviraj Chavan, resigned from the state government as his demand was not accepted. Similarly, Himanta Biswa Sarma, a minister in Assam Chief Minister Tarun Gogoi's government, put in his papers.
Both Sarma and Rane have not resigned from the Congress.
While the Congress leadership had clarified that the Maharashtra and Haryana chief ministers would not be changed, it was open to the idea of replacing Gogoi. But Sarma's unseemly rush to push for the Assam chief minister's removal could well end up giving him a fresh lease of life.
Since assembly elections in Maharashtra and Haryana are to be held in October, it was felt that a last-minute leadership change would not alter the ground situation in the two states.
The leadership was, however, sympathetic to Sarma's demand and he was even assured that a change was on the cards but he would have to wait for some time.
"But Sarma's resignation and his threat to split the party has inadvertently ended up facilitating Gogoi's continuation," a senior Congress leader told Rediff.com.
He said the Congress leadership had sought time to enable it to work out a compromise formula in Assam. "After all, Gogoi is a senior leader…he has led the party to three victories. He has to be given an honourable exit," said another Congress office bearer.
Congress insiders disclosed that the leadership change in Assam would have taken place earlier as Congress president Sonia Gandhi had given her consent to it but it was delayed because party vice-president Rahul Gandhi wanted Gogoi to continue. "Rahul Gandhi has enormous respect for Gogoi," a senior Congress leader said.
The Congress could end up paying a heavy price in Assam as the rebellion is set to gather pace with Sarma claiming the support of 50 legislators. More ministers in the Gogoi government are expected to resign in the coming days to build further pressure on the party leadership.
Although the Congress has decided not to give in to such pressure tactics, party leaders admitted that the situation in Assam is far more serious in comparison to Maharashtra. While Sarma enjoys sizeable support among the MLAs, the same cannot be said about Narayan Rane.
"The situation in Assam is serious but we have sufficient time to deal with it as elections are not due there for another two years. On the other hand, Rane does not pose a serious threat in Maharashtra but the party does not have enough time to recover lost ground here as assembly polls are round the corner," a Congress leader said.
Maharashtra leaders said Rane's support base was limited to the Konkan region and that, too, was on the wane. He was unable to ensure his son's victory in the recent Lok Sabha election while his public meetings over the weekend failed to attract big crowds.
The Congress is not unduly worried over Rane's threat to leave the party. Rane spoilt his case by publicly claiming that he had been promised the chief minister's post when he left the Shiv Sena and joined the Congress in 2005.
He wanted the Congress to project him as the chief ministerial candidate in the coming assembly polls. The rebel leader has repeatedly maintained that Maharashtra will see a replay of the Lok Sabha results in the assembly elections if the Chavan is retained as chief minister.
But Rane may have overplayed his hand. "No party can respond to one person's personal ambitions," said a senior Congress leader. The party has made it clear that there will be no leadership change in the poll-bound states of Maharashtra and Haryana.
Congress spokesperson Abhishek Singhvi was categorical about the party position when questioned the developments in Maharashtra and Assam. "It is clear from Rane's statement that there are issues of personal desire for a post. We have a similar statement from Sarma…We are clear that personal ambitions cannot be accommodated," Singhvi said on Monday.
If Assam and Maharashtra are on the boil, Harayna is not lagging behind either. There has been no let-up in the dissension against its Chief Minister Bhupinder Singh Hooda even after the Congress leadership declared that he will not be replaced.
Haryana Congress leader Birender Singh and several others, who have been pressing for Hooda's ouster, are in touch with Bharatiya Janata Party leaders.