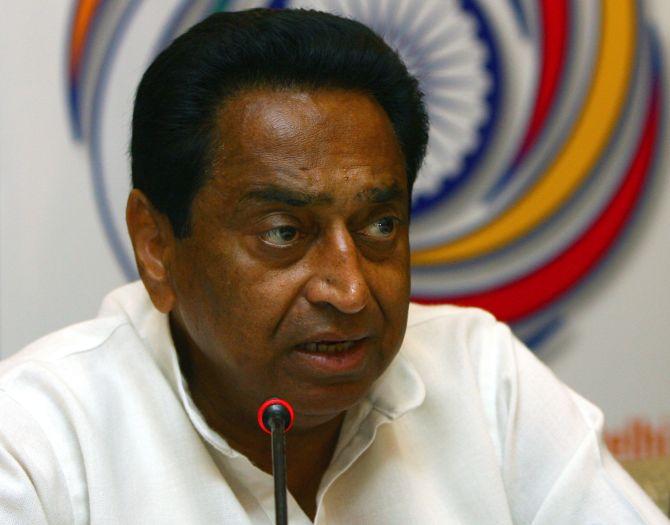 The Congress on Thursday appointed senior leader Kamal Nath as the president of its Madhya Pradesh unit and Jyotiraditya Scindia as the campaign committee chief, in an apparent bid to strike a balance in the faction-ridden organisation ahead of assembly election later this year.
The party also appointed Girish Chodankar, a youth leader, as the Goa Pradesh Congress Committee chief, replacing Shantaram Naik who had resigned a few days ago.
'Congress president Rahul Gandhi has cleared the appointments of Kamal Nath as PCC president of Madhya Pradesh and Jyotiraditya Scindia as Chairman, Campaign Committee of the state,' All India Congress Committee general secretary Ashok Gehlot said in a statement.
The party also appointed four working presidents -- Bala Bachhan, Ramnivas Rawat, Jitu Patwari and Surender Chaudhary -- in the Madhya Pradesh state unit.
The decision is being seen as a balancing act in the faction-ridden party in the state, where the Congress is seeking to wrest power from the BJP.
"I will fulfil the responsibility entrusted to me as Madhya Pradesh Congress chief with commitment, courage and mutual coordination to ensure the sure defeat of the BJP and other non secular forces. I will give in my best...," Nath said after his appointment.
He also said this biggest challenge right now was to have a development plan for the state in place and 'this is our prime motive'.
"It is not about Congress or any other leader. We need to be the voice of the labour class, the farmers, the unemployed youth and the women who are living in fear," Nath also said.
The appointments in Madhya Pradesh unit are considered as a 'please-all' formula evolved by the Congress president, who has left the choice of the chief ministerial candidate open.
While Nath and Scindia were in the race for the PCC chief, the party leadership is seeking to put forth a collective leadership plan, which Gandhi has been advocating.
The appointments come a few months before the state assembly elections, where the Congress is seeking to wrest power from the Bharatiya Janata Party.
The chief ministerial candidate has not yet been decided as the choice still seems open with both Nath and Scindia being in the race, a party leader said.
The Congress has been in political wilderness in Madhya Pradesh for the last 15 years ever since its government led by Digivijay Singh was voted out of power in 2003.