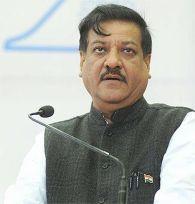 Opposition to the controversial Local Body Tax in Congress and NCP-ruled Maharashtra reached in New Delhi on Thursday, with several party MPs making a strong plea to All India Congress Committee Chief Sonia Gandhi to intervene and prevail upon Chief Minister Prithviraj Chavan to find an "acceptable" solution.
Former Union Ministers Gurudas Kamat, Vilas Muttemwar and senior leaders Datta Meghe and Jaywantrao Awale met the party president and explained her problems faced by the trading community in Maharashtra due to the decision to go ahead with LBT.
The MPs told the Congress president that they were not in favour of reintroduction of octroi regime as demanded by Shiv Sena, but favoured an amicable solution for the benefit of the traders, the municipal corporation and the government.
The four leaders also handed her a memorandum, signed by 18 party MPs including Priya Dutt, Murli Deora, Eknath Gaikwad, Vijay Darda, Hussain Dalwai, on the issue.
In Maharashtra, the business community has launched an agitation from April 22 against the levy of LBT in place of octroi.
While octroi was payable by transporters on behalf of traders bringing their goods in city limits, the newly introduced LBT is payable by traders themselves and for which they are required to furnish all details of their businesses.
Traders fear that the new system would lead to corruption and harassment at the hands of local civic staff.
The MPs have contended that in most states, octroi was abolished following introduction of Value Added Tax in 2005 without any alternate levy of tax.
The introduction of VAT led to increase in the revenues of the states which helped them compensate the loss suffered by municipal corporations following withdrawal of octroi, they said.