The Bharatiya Janata Party on Monday hit out at Congress leader Pawan Khera for 'mocking' the name of Prime Minister Narendra Modi and that of his father in relation to the opposition party's allegations on the Adani issue.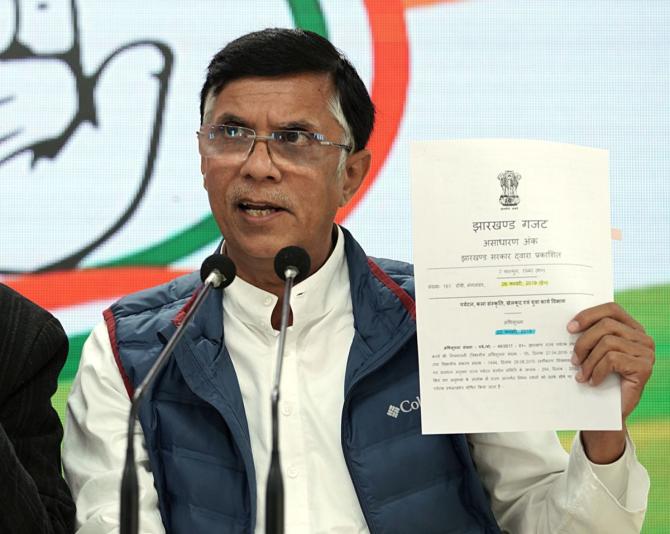 Uttar Pradesh Police on Monday registered a case against Khera following a complaint by Lucknow-based BJP leader Mukesh Sharma who alleged that the Congress spokesperson 'intentionally made fun' of Modi's late father.
Addressing a press conference on February 17, Khera attacked the government over the Hindenburg-Adani row.
Khera said when a Joint Parliamentary Committee (JPC) could be set up by former prime ministers P V Narasimha Rao and Atal Bihari Vajpayee, 'what is the problem of Narendra Gautamdas, sorry....Narendra Damodardas Modi'.
He is seen in the video asking if the PM's name has 'Gautamdas' or Damodardas and is told the correct name.
"Name is Damodardas but deeds are of Gautamdas," Khera said.
With a furore over his remarks, Khera later said in a tweet that he got confused.
'I genuinely got confused whether it is Damodardas or Gautam Das...,' Khera had said in his tweet on February 17.
BJP leader Amit Malviya hit out at Khera on Monday and said in a tweet that Congress has repeatedly targeted the PM for his humble origins and now they haven't even spared his dead father.
'The Congress has repeatedly targeted PM Modi for his humble origins and now they haven't even spared his dead father, who had nothing to do with politics... Congress's deep seated sense of entitlement and disdain for a self made man doesn't sit well with an aspirational India,' said Malviya, in-charge of BJP's National Information and Technology Department.
Meanwhile, a case was registered against Khera at Hazratganj police station in Lucknow under Sections 153-A (promoting enmity between different groups), 500 (defamation), 504 (intentional insult with intent to provoke breach of peace) and 505(2) (statements creating or promoting enmity, hatred or ill-will between classes) of the Indian Penal Code, a police official said.
Speaking to reporters in Lucknow, Sharma said that the way in which the Congress spokesperson (Khera) has given a statement, it will hurt the sentiment of the people.
"He (Khera) had intentionally made an effort to make fun of the prime minister's late father," Sharma alleged.
The Congress has been attacking the government daily over Hindenburg-Adani row.
The Congress and some other opposition parties have been pressing for a Joint Parliamentary Committee probe into the Hindenburg-Adani row.
The party has accused the government of 'running away from the demand'.
The United States-based short-seller Hindenburg Research, in its report on January 24, raised concerns about shares of Adani group companies having a possibility of declining from their current levels owing to high valuations, 'brazen stock manipulation' and 'accounting fraud' among others.
The Adani Group had attacked Hindenburg as 'an unethical short seller' and stated that the report by the New York-based entity was 'nothing but a lie'.
Adani Group on January 29, in a long 413-page report, said the recent report by Hindenburg Research was not an attack on any specific company but a 'calculated attack' on India, its growth story, and ambitions.
Home Minister Amit Shah had earlier said that BJP has nothing 'to hide or be afraid of' in the Hindenburg-Adani row.
(With PTI inputs)