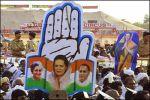 The Karnataka high court on Monday sought an explanation from the Indian National Congress for collecting Rs 10,000 as party fund from its members who are aspiring candidates.
The HC bench issued notices to the Election Commission of India, All India Congress Committee President Sonia Gandhi and Karnataka Pradesh Congress Committee president G Parameshwara.

The petition filed by Shashidhar, a member of the Congress, sought a direction from the Election Commission to frame guidelines for preventing collection of such funds by political parties. The petitioner also sought a direction to conduct probe by an independent agency into the collection of funds.
The petitioner said he was an aspirant and added that he was asked to contribute Rs 10,000 for the party fund. Moreover, there were 2,500 such aspirants from whom Rs 10,000 each was collected, he pointed out.
The collection of funds from party members towards Assembly elections was contrary to the constitution of the Congress Party, the petitioner alleged.


The court posted the matter for further hearing while observing that the matter was a serious one.