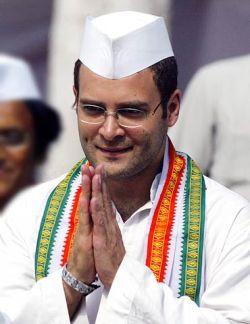 Congress on Wednesday hailed party Vice-President Rahul Gandhi's "key role" in the passage of the historic Lokpal Bill, which was cleared by Parliament, while asserting that it was committed to bringing in an anti-corruption code in the country.
"Rahul played a key role in the passage of the Lokpal Bill. There is a message in Rahul's sentiments... that Congress gives utmost priority to people's aspirations.
"Rahul has also said that corruption cannot be fought alone by the Lokpal and there is a need for a comprehensive anti-corruption code, whose foundation was laid by the RTI Act... Six more bills (pending in Lok Sabha and Rajya Sabha)... Congress is committed to their passage so that corruption can be fought decisively," party spokesperson Raj Babbar told reporters in New Delhi.
As to whether the winter session of Parliament may be extended or a special session called to pass the said bills, Babbar said that it could "happen if there is a consensus between the ruling alliance and the Opposition and if the chairs (of the two houses) agree to it".
The Lokpal and Lokayukta Bill, 2013, was passed in Lok Sabha today by voice vote amid some din in the House. The Bill had once before been passed by the Lower House in December, 2011, but was returned for a fresh vote following amendments.
Rajya Sabha had passed the bill on Tuesday.
The measure received support from all parties excepting Samajwadi Party and Shiv Sena, whose MPs staged a walkout.
Batting for the Bill, Rahul had also suggested that the Winter Session be extended to pass the six more bills which were "part of the comprehensive anti-corruption framework".
However, the Houses were adjourned sine die upon passage of the bill.
Parliamentary Affairs Minister Kamal Nath, meanwhile, has indicated that, instead of going in for a budget session next year, Parliament could be reconvened in the new year for passage of the vote-on-account ahead of general elections.
He insisted that the winter session has not been prorogued but adjourned sine die and hence could be convened at short notice.
He said that legislation like the Whistle Blowers' Bill and Delivery of Services Bill, which are part of the same basket which would give strength to the Lokpal, too, needed to be passed.
Image: Congress vice president Rahul Gandhi