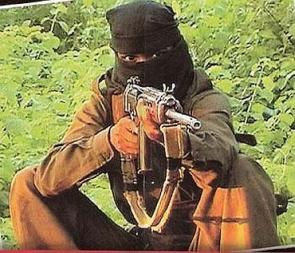 Till two years ago, he was a dreaded Naxal with multiple cases filed against him and carried a reward of Rs 25 lakh on his arrest.
Now as he walks into the conference room of a police office in formal wear to meet some visiting journalists, he looks no less "mainstream" than the two IPS officers who played an important role in getting him to "join the mainstream", and were facilitating the meeting.
The 43-year-old -- name withheld -- surrendered on April 12, 2016 after 20 years as a Naxalite. He was then a special area committee member, considered a senior post in the Maoists' hierarchy. "I was feeling suffocated there. Naxalism now has shunned its principles."
But how and why did he join the "revolution" and what made him renounce it?
The question took him to his college days in Ranchi when his only aim was to work for the people. It was in the early 90s. "I came in contact with some over ground Maoist Communist Centre workers who used to visit my college for meetings."
He initially joined protests against a proposed firing range of the Chatra Police. "MCC leaders said people would be displaced by the land acquisition for the range. During the protests, the police baton charged and I got hit. You may say that was the trigger. The exuberance and agitation of the youth prompted me to take up arms."
"I went underground in 1996."
He said the MCC received funds in the form of levy, donations or grains and part of it was spent on the "welfare" of people. "We opened schools, built dams."
"This gave me the feeling, I was indeed working for the people," he said.
He said he got married in 1991 and has a daughter and a son. The son is in ISc and the daughter is in Class 7. The outfit took care of their schools fees. "I rarely used to call them to the camp -- maybe once or twice a year."
He said that more than 10,000 people would gather at MCC meetings. "They would come with their food like 'sattu' (roasted gram flour)."
How many landmines did he lay as an active Naxalite? "Ungineet baar (I lost count). Entire (Sarju) valley remained dotted with landmines," he said.
Sarju, about 25-minute drive from the Latehar district headquarters, served as the headquarters of the Communist Party of India-Maoist's Eastern Regional Bureau. "Our cadres used to meet there. We lived there day in day out. We were trained in making weapons, bombs there," he said.
Ashish Batra, IG (Operations) said, "From 2001 to 2006-07, going to that area used to be like (falling in) a death trap."
But things started changing after 2004 "when the Peoples' War and MCC merged to form the Communist Party of India-Maoists. The leadership started comprising on the principle and policies. They concentrated on collection/extortion on one hand and killing security personnel on the other," the ex-SAC member said. "And when we opposed, they responded by saying we were becoming rightwing."
"I told them, it was not about leftwing or rightwing. It was about the 'revolution'. And 'revolution' for whom -- people. Then why deploy all your resources only on attacking official and doing nothing for the people."
According to the state police, the number of policeman killed in the Naxal attacks, encounters was more than 35 annually between 2001-14.
The surrendered Naxal said such arguments and counter-arguments led to internal dispute. "I felt suffocated and a sense of remorse started setting in."
The administration kept a close eye on the development and moved to take advantage of the situation. "The administration reached out to me through my relatives. They told us that 'welfare work' I wanted to do can very well be done by being among people."
Meanwhile, he said the government announced a new surrender policy in 2009, which was amended in 2015 and 2016.
But despite several round of proxy talks and back and forth, he was not convinced about surrendering. "I had heard the police would torture Maoists after surrender. Also, I was afraid I'd have to spend my entire life in jail. So, I wanted cases against me withdrawn," he said.
But police said the court did not allow the cases to be withdrawn. Then a meeting was arranged between Chief Minister Raghubar Das and the family of the surrendered Naxal. "He assured us that no harm would be done to me. He counselled us. It is then that I surrendered on April 12, 2016."
He said he managed to come out from the camp on the pretext of getting medical help. "Had they (the Maoists) known I was going to surrender, they'd have killed me. They still issue press releases against me."
"Those who surrendered are labelled as renegades," said Raj Kumar Mallick, Additional DG (Operations).
IG (operations) Batra said his security is a concern for the police. "We have provided two fulltime armed bodyguards to him."
The former MCC commander said the day he surrendered the administration gave him Rs 25 lakh under the new surrender policy. "I spent 23 months in jail and then released on March 9, 2018."
He said he did not face any sort of social boycott. "In fact, people have been welcoming. Whenever I go to my village, 300-400 people come to see me. They say 'you have done a good job by surrendering. Live with us. You will get all the respect'."
He is still figuring out what to do to make a living. "I have kept the award money. Some of it is for my children's education."
He appealed to his former colleagues to "come out of that quagmire".
"The administration and society cooperate. Come join the mainstream, join the development story," he said.
© Copyright 2023 PTI. All rights reserved. Republication or redistribution of PTI content, including by framing or similar means, is expressly prohibited without the prior written consent.