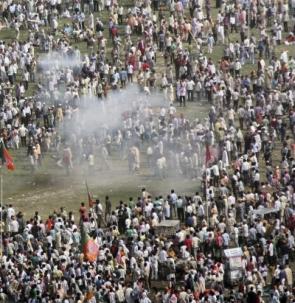 Security alerts issued in the next couple of months should be taken seriously as the campaign for the Lok Sabha polls promises to be a bitter and divisive one, says Vicky Nanjappa
The Intelligence Bureau has issued several alerts about the possibility of communal clashes breaking out in Bihar, Uttar Pradesh and Karnataka in the months before the Lok Sabha elections.
Karnataka Chief Minister Siddaramaiah recently met with top police officials to discuss these alerts, sources in the state government told Rediff.com.
Visibly upset, he told the officials that the state IB had warned him about communal clashes being triggered in an attempt to destablise the government. The most communally sensitive areas in Karnataka are coastal Karnataka, Hubli-Dharwad, Mysore and Davangere, the agency reportedly told Siddaramaiah.
The CM also warned police officials against aligning with a particular political party or organisation.
"Depute one senior police officer in the rank of the additional director general of police in these sensitive districts to oversee the law and order situation. The officer will be responsible for maintaining law and order," the CM said at the meeting.
IB officials admit that such alerts are issued before most elections, but they should be taken seriously this time as the campaign for the Lok Sabha polls promises to be a bitter and divisive one.
They also urged the government of Uttar Pradesh -- which has already witnessed the horrific Muzzafarnagar riots -- to exercise caution.
Though the situation is under control there, trouble may erupt again at the slightest provocation, IB officials told Rediff.com.
"Elements from all communities would try and disrupt peace. The state government has to be unbiased while handling the situation," states an IB report.
Bihar has borne the brunt of 87 cases of communal violence in the last year. The ruling Janata Dal-United and its former ally Bharatiya Janata Party are busy blaming each other over the riots.
The IB branch of state police believes that most of the communal incidents have been triggered due to a political agenda.
The serial blasts near the venue of BJP's prime ministerial candidate Narendra Modi rally in Patna had both political and terror overtones, said the IB.
Image: At Narendra Modi's rally in Patna, Bihar ' Photograph: Reuters