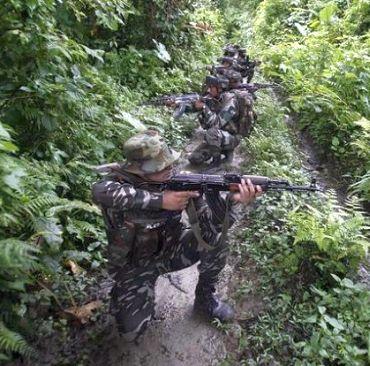 In swift and specific operation Assam Police on Tuesday apprehended five members of Garo tribal militant group, Achik National Liberation Army including its self-styled commander-in-chief, Suber Sangma who hails from Rongkhang in Karbi Anglong.
Assam police informed that sleuths of its crime branch of Guwahati city police arrested seven persons from Panbazar area in the city on the basis of specific inputs. Three of the persons had come to the city from Hojai in Nagaland Express train to Guwahati Railway station while the rest four had come in a Hyundai Santro vehicle bearing registration number AS 18D 0351.
On interrogation police found that five of the apprehended persons were members of the ANLA which included its 'c-in-c' Suber Sangma.
The rest of the apprehended ANLA members were identified as George Sangma alias Robert (physical instructor) from Karbi Anglong in Assam , Buttu Sangma (drill instructor) from Karbi Anglong in Assam, Embrosh Arengh (Dainadubi Meghalaya) and Alanson Sangma from Karbi Anglong in Assam.
Police informed that during the interrogation the c-in-c revealed that the outfit which has base in Garo Hills neighbouring Bangladesh and bordering areas of western Assam, has a huge stock of arms and ammunition that included 50-60 Ak-47 assault rifles, four M-40 rifle, four M-16 rifles, ten 9 mm pistols, twelve .32 revolvers, 15 grenades at its base camp.