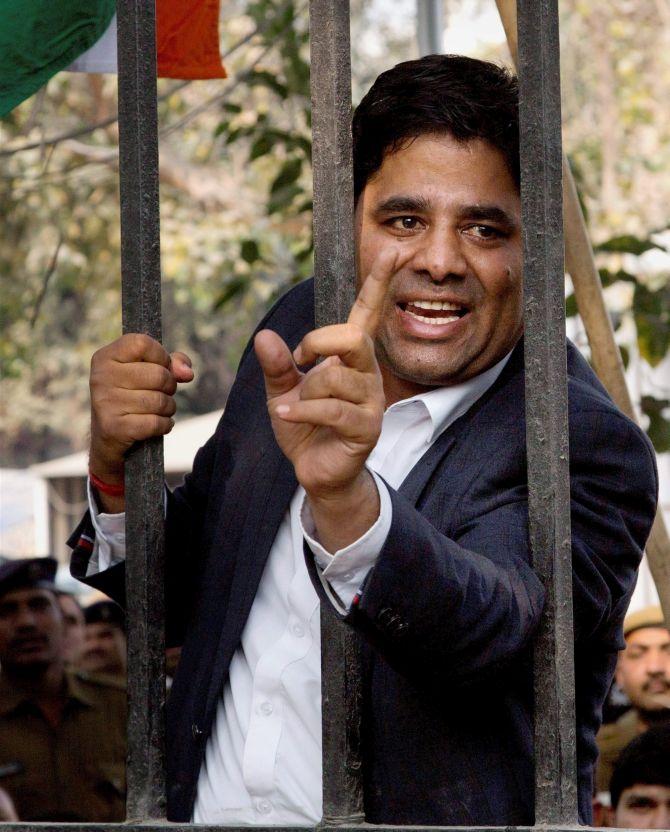 On Monday, Vikram Singh Chauhan became a known face when he led the attack on journalists and students at the Patiala House court. He was once again in the limelight on Wednesday when he was in the group of lawyers that led the attack on Jawaharlal Nehru University students' union president Kanhaiya Kumar at courts.
On Thursday, it has been revealed that Chauhan used Facebook to mobilise support for the attacks.
Between February 11 and 16, Chauhan has used the social media website nine times to urge lawyers to reach the court in time and "demonstrate their patriotism" and "teach traitors a lesson", reported The Indian Express.
In his posts, he not only speaks of taking legal action against those speaking against the nation, but also calls for direct action against them.
On his Facebook profile, Chauhan makes it a point to put up several pictures of himself with several senior Bharatiya Janata Party -- ranging from Union Home Minister Rajnath Singh to veteran LK Advani.
On February 11, the lawyer on Facebook asks his colleagues to gather at Patiala House court and 'give a strong answer to the enemies of the country'.
On February 13, speaking of the arrests of some of the JNU students, Chauhan writes that the news will bring a sigh of relief to many Indians. The post ended with 'Doodh mange kheer denge, aage sabko pata hai.' -- a reference to the slogan 'Doodh mangoge to kheer denge, Kashmir mangoge to chir denge'.
In his February 16 post, a day after lawyers attacked students and media persons at the court premises, Chauhan thanked all his fellow colleagues for showing unity and attacking the traitors.
In another post on February 16, Chauhan wrote: "I have been made the biggest goon of the country and those who are against Mother India are now heroes. If countering Leftist goons, saying 'long live Mother India. is hooliganism, then I am a goon. I don't care who all are barking. we are gathering again tomorrow to expose their conspiracy and.I request all of you to reach the court in maximum numbers by 10 am."
Image: The lawyers protesting outside the Patiala House court on Wednesday. Photograph: PTI