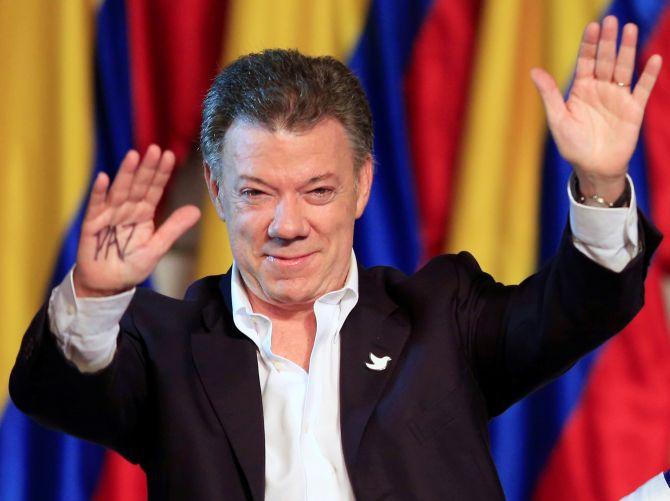 Colombian President Juan Manuel Santos has been awarded the 2016 Nobel Peace Prize days despite his peace deal being rejected in a referendum.
The Nobel committee in its citation said it had awarded Santos the prize for "his resolute efforts to bring the country's more than 50-year-long civil war to an end, a war that has cost the lives of at least 220 000 Colombians and displaced close to six million people".
It added: "The award should also be seen as a tribute to the Colombian people who, despite great hardships and abuses, have not given up hope of a just peace, and to all the parties who have contributed to the peace process. This tribute is paid, not least, to the representatives of the countless victims of the civil war."
Santos' peace deal with Revolutionary Armed Forces of Colombia, the result of four years of negotiations, was narrowly rejected in a referendum in the country on Sunday. The Nobel committee said despite the shock result of the referendum, Santos 'has brought the bloody conflict significantly closer to a peaceful resolution'.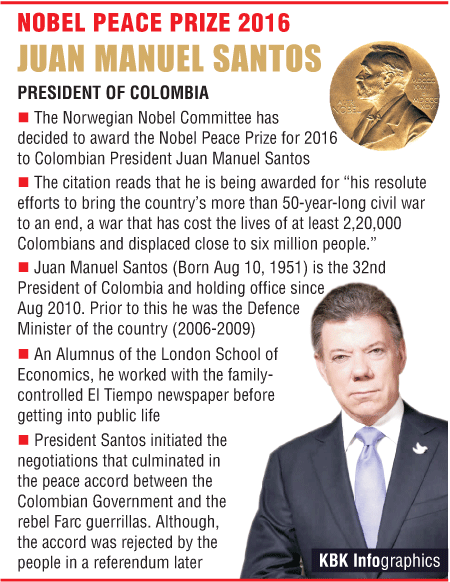 The Nobel committee also praised Santos for saying he would fight for peace until his final day as president.
The result has come as a surprise as The White Helmets volunteer search and rescue group, who are believed to have rescued up to 60,000 people in war-torn Syria, were widely tipped to receive the award.
Others who were believed to have been in contention for the prize include a group of inhabitants from Greek islands who have rescued refugees after they made the treacherous journey across the Mediterranean.
Pope Francis, Edward Snowden and Iranian architects of the landmark nuclear deal with world powers were also rumoured to have been nominated.
Image: Colombian Juan Manuel Santos. Photograph: Jose Miguel Gomez/Reuters