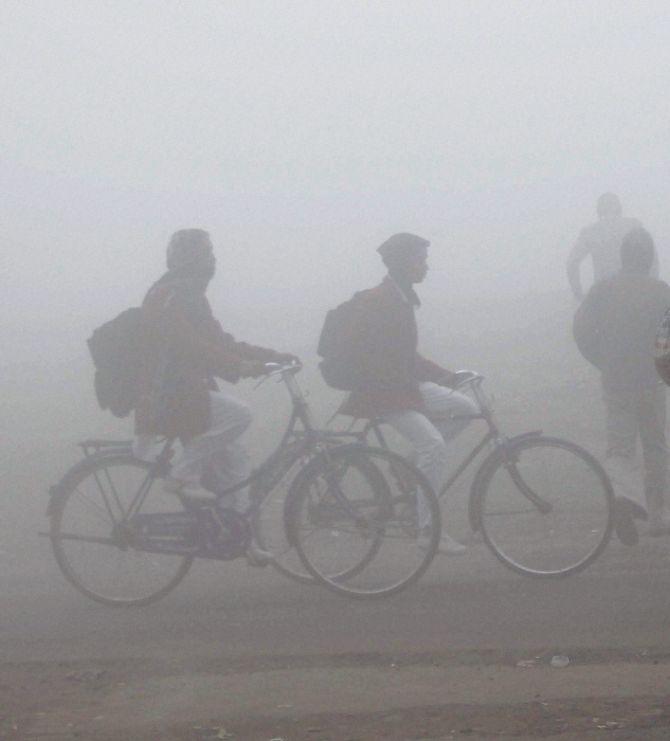 Intense cold wave continued unabated in north India on Saturday as fog-related incidents claimed eight lives in Uttar Pradesh and disrupting traffic movement in several parts of the region.
Chilly weather prevailed in the national capital on Saturday with the minimum temperature touching 7.2 degrees Celsius, a notch below the normal.
Moderate foggy conditions were witnessed early in the morning in several parts of the city causing drop in visibility but the situation improved as the day progressed.
The maximum temperature settled five notches below the season's average at 17.5 degrees Celsius.
Cold wave intensified its grip in different parts of Uttar Pradesh with mercury dipping to sub-zero levels and claiming eight lives while dense fog threw transport systems out of gear in most areas.
While six persons were killed and 34 others injured when a truck fell into a canal in Kadura area amidst dense fog, two deaths were reported in an accident in Kushinagar due to poor visibility.
Though weather was dry over the state, fog occurred at most places adversely hitting air, train and road traffic.
Lowest minimum temperature over the state was 3 degrees Celsius recorded at Nazibabad (Bijnore) while Kanpur recorded a minimum of 8.3 degrees Celsius.
Mercury dipped further in Srinagar to record the season's lowest temperature on the eve of 'Chillai-Kalan'– the 40-day harshest winter period.
Srinagar recorded a low of minus 4.4 degrees Celsius, down from the previous night's minus 4.2 degrees Celsius, a MeT official said.
Leh continued to be the coldest place in the state with minimum temperature at minus 13.9 degrees Celsius, as Kargil, also in Ladakh region, recorded a low of minus 13 degrees Celsius, he said.
Temperature elsewhere in Kashmir region stayed below the freezing point.
Biting cold conditions continued without any respite in Himachal even as the region had a clear day while the state started limping back to normalcy with partial restoration of water and power supply in Kullu and Manali after seven days.
While the National Highway from Manali to Rohtang Pass was closed all major roads have been opened and efforts are on to open 150 link roads in the interior areas of Kullu where 83 roads are still shut.
The high altitude tribal areas continued to reel under piercing cold wave with mercury staying well below the freezing point.
Cold wave conditions continued unabated in Punjab and Haryana throwing normal life out of gear with all flight operations being cancelled at Chandigarh airport due to dense fog which reduced visibility levels.
Many trains, including Chandigarh-Delhi Shatabdi, Tata Mori, Paschim Express ran hours behind schedule.
Dense fog engulfed almost all major cities of the region, including Amritsar, Ludhiana, Patiala in Punjab and Hisar, Karnal and Ambala.
Narnaul in Haryana was the coldest place in the region as it recorded a minimum temperature of 4 degrees Celsius.
In Punjab, Amritsar recorded a low of 4.1 degrees Celsius, the joint capital Chandigarh's minimum settled at 7 degrees Celsius.
Image: People wearing warm clothes to protect themselves from cold waves during a foggy morning in Allahabad on Saturday. PTI