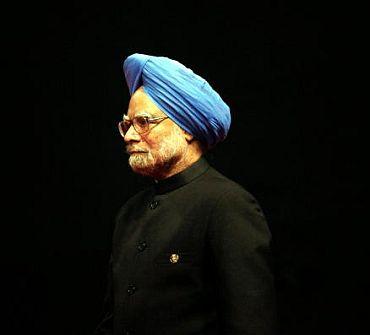 Former minister of state for coal Dasari Narayan Rao, an accused in Jharkhand's Amarkonda Murgadangal coal block allocation scam case, on Tuesday said that decisions to allocate coal blocks were taken by then Prime Minister Manmohan Singh, who was also heading the coal ministry at that time.
"I was only the minister of state. All powers for allocating coal blocks are of the coal minister and the then coal minister was Manmohan Singh. All the decisions were taken by the then prime minister Singh," Rao told reporters outside the Patiala House courts in New Delhi.
Rao's reaction came after he appeared before a special court in connection with the coal scam case along with Congress leader and industrialist Naveen Jindal and others.
The case pertains to alleged irregularities in allocation of Amarkonda Murgadangal coal block to two Jindal's group companies -- Jindal Steel and Power Ltd and Gagan Sponge Iron Pvt Ltd.
Besides Rao, Jindal, former Jharkhand chief minister Madhu Koda, Director of Jindal Realty Pvt Ltd Rajeev Jain, Director of Gagan Sponge Iron Pvt Ltd Girish Kumar Suneja, are among the 14 accused in the case.

Image: Former PM Manmohan Singh