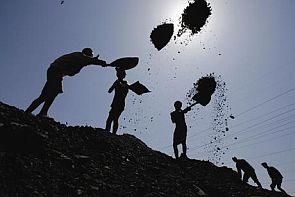 At least four persons were killed and five others injured when a coal dump caved in near an open cast mine area of Mahanadi Coalfields Limited in Sundargarh district of Odisha on Saturday.
"So far four bodies have been recovered and five persons rescued from the site at Kulda open cast Basundhara-Garjanbahal coal mine area," Sundargarh Superintendent of Police Sanjeev Arora said.
The SP, who was at the spot, did not rule out a rise in the casualty figure as some more people are suspected to be trapped under the debris. The injured persons are undergoing treatment at a hospital nearby.

The incident took place when some people from nearby villages were collecting coal from the "over-burdened" dump yard located near the mining area, an MCL spokesman said.
Some of them came under a heap as a portion of the coal dump suddenly collapsed, probably due to heavy rains that lashed the area on Friday, he said, adding that rescue operation was immediately launched at the site.
Over burden (OB) is a mining term which means the extraction is done by blasting away the top soil for excavation of coal, MCL sources said.
For residents of the BG area, scavenging coal out of this OB dumping yard in dangerous circumstances is common. This dump, which belongs to the regular Kulda open cast mines, contains nothing but the top soil along with little amount of inferior coals that get excavated out after blasting and are stacked in a conical shape, said an official of MCL.
"The OB dump located at outer most part of the mines, are conical heaps and very unstable. On Friday, it rained heavily in this part, making it further unstable," he said.
Entry of people into this area is illegal and they were trespassers and unauthorised entrants, he said adding there are notice boards warning about the situation.
The whole dumping yard is situated over an area of 40 acres of land and the owners, who are locals, had been paid compensation and provided employment in MCL.