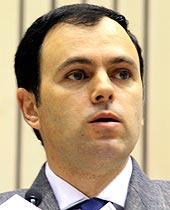 Jammu and Kashmir Chief Minister Omar Abdullah on Saturday reiterated that he will not resign over the present crisis engulfing his state.
"I know most of the media has been running stories about my resignation. I have no intention to resign," he told a TV channel during an interview.
However, Abdullah refused to answer when asked if he enjoyed the confidence of the people and his coalition partner Congress.
Asked if he is going to hand over the CM's post to his father and veteran politician Dr Farooq Abdullah, he shot back that the media should behave in a responsible manner and not circulate such irrelevant stories.
"When the violence broke out, my detractors asked 'where is Dr Farooqh Abdullah'. Now they are asking 'why is Dr Abdullah in Srinagar'," said the CM.
He added, "This Sunday is the death anniversary of my grandmother. Dr Abdullah is coming here to pray at her grave. It is a prescheduled visit. What is wrong in that"?
The youngest chief minister also slammed the media for repeatedly asserting that the Army was 'back on Kashmir's streets'.
"Where had the army gone? The army was very much here. It has become part of our lives in last twenty years. We have asked them to assist the civil administration," he said.
He also pointed out that the media had reported about Governor N N Vohra 'being summoned to Delhi for consultations', whereas it was a scheduled visit.
"My effort is to bring an early end to the present crisis and ensure that this kind of thing does not happen again," he added.