Questioning the foreign policy credentials of Donald Trump, the Hillary Clinton campaign have launched a new video asking the relationship the Republican presidential nominee has with Russian President Vladimir Putin.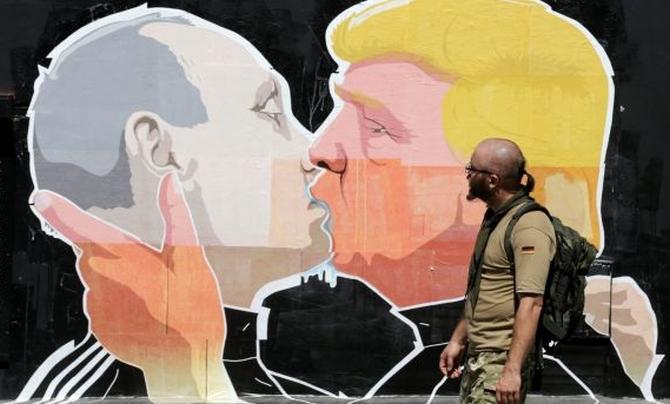 "Trump's fascination with Putin and his cadre of Kremlin-linked advisors are backed up by a policy agenda that tracks with Putin's top policy priorities," the Clinton campaign said in a statement as it released the video.
The 70-year-old reality TV star has strongly refuted reports of any relationship with Putin and has said he has never met the Russian president.
The Clinton campaign said Trump has "rattled American national security experts and allies alike with his rebukes of NATO, his "America First" nationalism, his stoking of disunity in Europe, his comfort with ceding Crimea to Russia, and of course, his encouragement of Russian espionage to help him win the election".
"We still don't know the extent of his financial ties to Russia – namely because Trump won't release his tax returns," it said, a day after a bipartisan group of 37 former top US officials released a letter expressing serious concerns about these policies.
The letter had said: "Donald Trump's recent statements casting doubt on whether he would honour that commitment should one of our allies be attacked compels us to respond. Just last week, Trump said he would consider recognising the Russian annexation of Crimea and lifting sanctions on Moscow."
"He also encouraged the Russian government to hack into Secretary Clinton's emails. These are disgraceful statements that betray our longstanding values and national interests embraced by Presidents of both parties," said the letter, which among others have been signed by the former Secretary of State Madeline Albright and the former Defence Secretary Leon Panetta.
On Friday, former acting director and deputy director of the CIA, Michael Morell, who served 33 years in the agency under three Democratic and three Republican presidents, wrote that "Mr Putin had recruited Mr Trump as an unwitting agent of the Russian Federation."
Trump, however hit back at Morell by labelling him as "Obama-Clinton pawn".
Meanwhile, the Hillary campaign also released a new television ad, "Unfit," which features a litany of Republican voices expressing concern over the notion of Donald Trump becoming commander in chief.
Among them, former CIA Director Gen. Michael Hayden says, "If he governs consistent with some of the things he's said as a candidate, I would be very frightened."
Additionally, conservative writer Charles Krauthammer cautions, "You have to ask yourself, do I want a person of that temperament in control of the nuclear codes? And as of now, I'd have to say no."
The ad will air on national cable television as part of the campaign's existing ad buy.
Photograph: Reuters
© Copyright 2021 PTI. All rights reserved. Republication or redistribution of PTI content, including by framing or similar means, is expressly prohibited without the prior written consent.