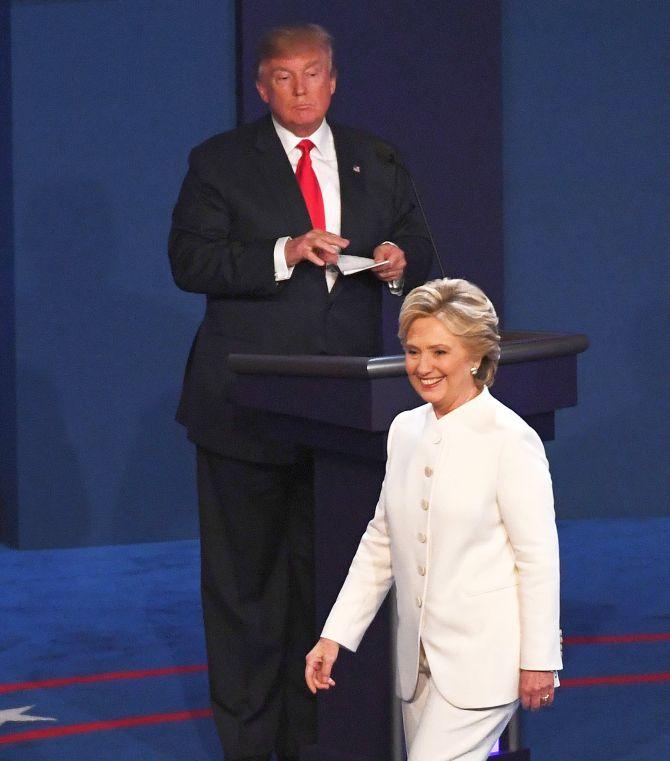 Hillary Clinton and Donald Trump burned the midnight oil on Monday in a star-studded climax to one of the most consequential election campaigns in US history.
Rallying behind Hillary Clinton, US President Barack Obama said the Democratic presidential nominee was more qualified to be the next US president than him or Bill Clinton as he termed her Republican rival Donald Trump "temperamentally unfit" to lead the country.
Appearing with his wife Michelle Obama, former president Bill Clinton and his daughter Chelsea Clinton for a grand rally in Philadelphia on election eve, 55-year-old Obama exhorted a crowd of thousands to go out and vote for Hillary.
Describing Hillary as "smart" and "well-tested", Obama said she was more qualified than he or her husband was to lead the country.
"It's been a long campaign, with a lot of noise and distraction. It felt more like a reality show and parody," Obama said.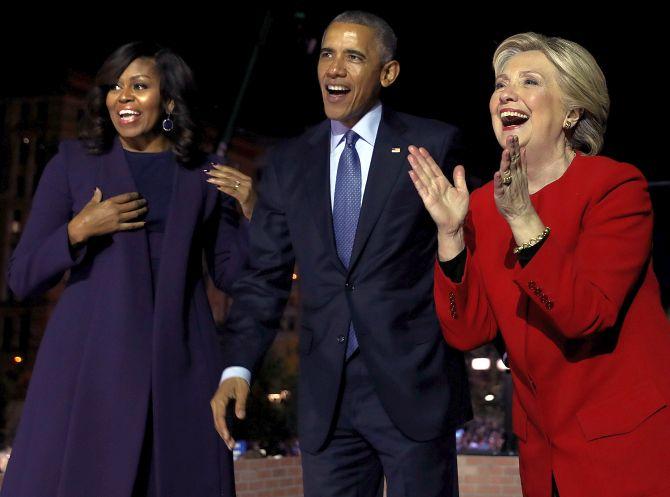 IMAGE: US. First Lady Michelle Obama, US President Barack Obama and Democratic presidential nominee Hillary Clinton greet supporters during a campaign rally. Photograph: Justin Sullivan/Getty Images
Noting that Trump is "temperamentally unfit to be the Commander-in-Chief", he said the Republican nominee lacks basic understanding of the world and justifies torture.
Hitting out at Trump's aides who took control of his Twitter account, Obama said if the Republican nominee's closest aides do not trust him to tweet then he should not be trusted with nuclear codes.
"Anyone who sees women as objects, minorities and immigrants as inferior, then he cannot lead our diverse and dynamic big-hearted country," Obama said.
Obama said in Hillary, Americans have "somebody extraordinary to vote for."
He said he had to "bite my tongue" several times when Hillary was attacked viciously and described her as one of the "most effective" Secretaries of State who "did a great job for America."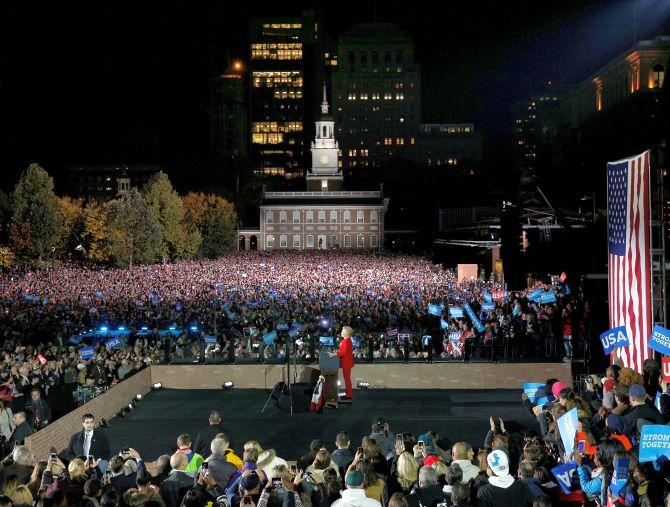 IMAGE: Clinton's rally was attended by thousands with Bruce Springsteen and Jon Bon Jovi performing at the rally. Photograph: Brian Snyder/Reuters
"She is a big reason why we are more respected around the world today," he said, adding that Hillary does not "complain, doesn't buckle, juts like the American people."
"She is strong and tough and she will work and deliver. She won't just tweet."
Urging the crowd, especially the young to go out and vote, Obama said in "2008 you gave me a chance, a skinny guy with a funny name."
"I'm betting on you one more time," he said, expressing confidence that on election day, the American people will not vote for a candidate who denigrates their daughters from the highest office in the land or looks at people with differences as objects and with suspicion.
"Tomorrow America will reject politics of resentment and blame, you will reject fear and chose hope," he said.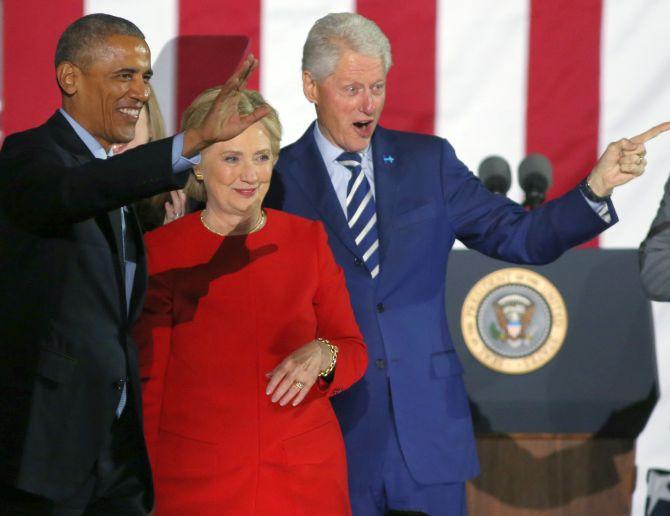 IMAGE: Clinton in her final pitch urged her countrymen to go to the polls and vote for the country's future. Photograph: Reuters
Taking the stand after Obama's speech, Clinton said the country's "core values" were at stake in the polls as she urged people to vote for an "inclusive" and "big-hearted" America.
"We don't have to accept a dark and divisive vision for America. Tomorrow you can vote for a hopeful, inclusive, big-hearted America. Our core values are being tested in this election," the 69-year-old former secretary of state said.
"We know who my opponent is and the question is? What kind of country do we want to be and what kind of future we want to build for our children," Clinton said.
"People look at us with yearning. They see that we are a beacon of freedom, hope and opportunity for people, right here, at home," she said amidst applause from the audience.
Clinton urged her countrymen to think about that when they go to the polls and how generations have come to meet the test of their time.
On the cusp of becoming the first woman president of the United States, Clinton said she will be a president for all Americans, Democrats, Republicans, independents, and not just the people who support her.
"I believe that we all have a role in building a better and stronger America on the progress that we have enjoyed under Barack Obama over the last eight years," Clinton said.
"I am not going to let anybody rip away the progress we have made," she said and accused her opponent for insulting more than half of the population, immigrants, African-Americans, Latinos, Muslims, and women.
"He launched the attack on our democracy, refusing to say whether or not he would accept the outcome of the election. We will show there is no doubt about the outcome of this election," she said.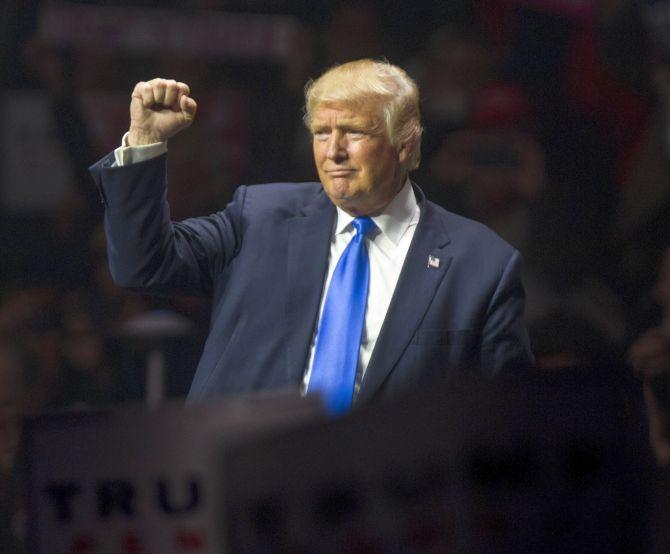 IMAGE: Republican presidential candidate Donald Trump makes a fist at the end of his rally. Photograph: Scott Eisen/Getty Images
Meanwhile, the Republican candidate holding a rally in Manchester, New Hampshire, presented himself as the face of change for Americans, whom he said had been let down by a corrupt political system.
"Hillary is the face of failure. She's the face of failure," Trump said, blasting Clinton's political record and service as secretary of state.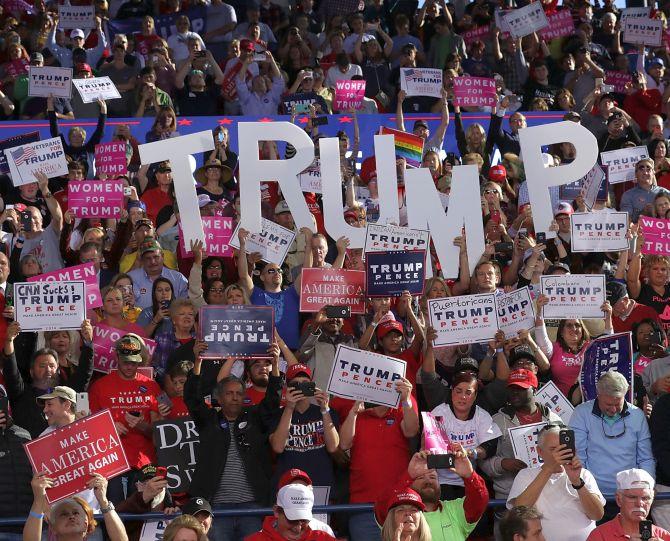 IMAGE: Supporters cheer for Republican presidential nominee Donald Trump during a campaign rally. Photograph: Chip Somodevilla/Getty Images
"Do you want America to be ruled by the corrupt political class, or do you want America to be ruled again by the people?" asked the GOP nominee to loud cheers, adding: "Hillary Clinton's only allegiance is to herself, her donors and her special interests."
"Lock her up!" the crowd began chanting moments later.
-- With inputs from Agencies
© Copyright 2021 PTI. All rights reserved. Republication or redistribution of PTI content, including by framing or similar means, is expressly prohibited without the prior written consent.