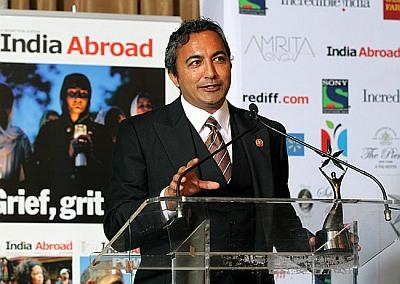 Congressman Ami Bera's re-election bid has got a major boost with former US President Bill Clinton campaigning for him in the California seat where the Indian-American is locked in a tight contest.
With Clinton, the star campaigner for the Democratic Party, personally seeking votes for Bera -- the only Indian-American in the current Congress and only the third ever Indian-American to be elected to the US House of Representatives -- his electoral chances brightened on Wednesday.
Clinton described Bera as the embodiment of the American Dream.
49-year-old Bera is facing a tough competition from Republican Doug Ose, a businessman who served three terms in Congress through 2005.
Appreciating Bera, Clinton described him as a "local remedy" for the intransigence gripping Washington.
He cited Bera's support for the federal health care overhaul, equal pay for women and increasing the minimum wage.
Clinton alleged that Republicans are too often trapped in an "evidence-free zone," mentioning their denial of global climate change and disapproval of raising the minimum wage.
In his brief opening remarks, Bera supported the candidature of Hillary Clinton for the 2016 presidential polls.
Speaking about his high school senior daughter, he said: "When she votes in her first election in 2016, I want her vote to help us elect the first female president of the United States of America. I am ready for that."
"But first, let's focus on an election we have six days from now," he added.
In his campaign, Ose described Clinton's campaigning for Bera as an act of desperation.
"Today, in a sign of desperation to save his failing campaign, Congressman Ami Bera will stand on stage at a rally with former President Bill Clinton," said Michawn Rich, Doug Ose's spokeswoman.
She said that Bera's campaign is "on life support."
"Today's rally proves he is willing to do whatever it takes to cover up his record of having delivered absolutely nothing for California's 7th Congressional District," she alleged.
Rich further alleged that Bera has relied on Washington, DC to fund his campaign of lies and now he is bringing DC home with him.
"This is his last-ditch attempt to trick voters by hiding the fact that he works for Washington, not Sacramento County -- and he's pulling out all the stops," she said.
The Bera-Ose electoral duel is said to be the most expensive Congressional contest this election, with outside groups pouring in more than $11 million into the campaign.