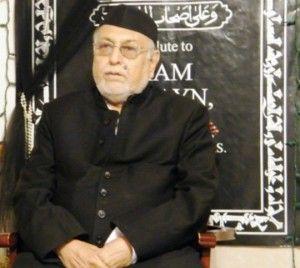 Shia cleric and president of All India Shia Personal Board Maulana Mirza Mohammad Athar has made it to the Limca Book of Records for his longest continuous series of sermons for the last 53 years at Moughal Masjid-Mumbai during the time of Moharram.

"My name has been included in the Limca Book of Records for giving sermons for one hour each on 10 days of Moharram every year on the same topic --Islam, Karbala, unity, humanity, the real Islam, the moral characters of Islam at the same venue Moughal masjid Mumbai and at the same time (9-10 pm) for the past 53 years", Maulana Athar told PTI.

The lectures are given on the first day of Moharram (Islamic calendar) till Ashura--the 10th day, the 72-year-old Lucknow-based Maulana said.

Athar recites Quranic verses and talks on the tragedy of Karbala, its eternal message of standing against injustice, and its relevance in today's times of terrorism in his majlis at the mosque in bustling Bhendi Bazaar area of Mumbai.

About his achievement, Athar, who belongs to Lucknow said Mumbai was like a second home to him and people there loved him due to which he could continue his majlis (sermons) for such a long time.

Maulana Athar, who retired as principal of Shia College here a decade ago, is popular among the Shias and it was one of their organisations-- Anjuman-e-Imamia which had approached the Limca Books for inclusion of his name.

Athar said that he was surprised by his own popularity.

"I was not aware about it till I travelled to Europe, the US and the Middle East... People tell me there that they saw me at my Mumbai congregation on TV, radio and Internet", says the Maulana.

Athar feels he is duty-bound to talk about terrorism while denouncing carnage in all his sermons.

He turns to the life of the Prophet, his companions and the Ahl-e-Bait (the Prophet's relatives) to explain why killings of innocents is forbidden.