Incidents of bombing and clashes between Trinamool Congress and Bharatiya Janata Party supporters were reported in the fourth phase of polling for eight Lok Sabha seats of West Bengal on Monday, with an estimated 76.44 per cent of over 1.34 crore voters casting their ballots, officials said.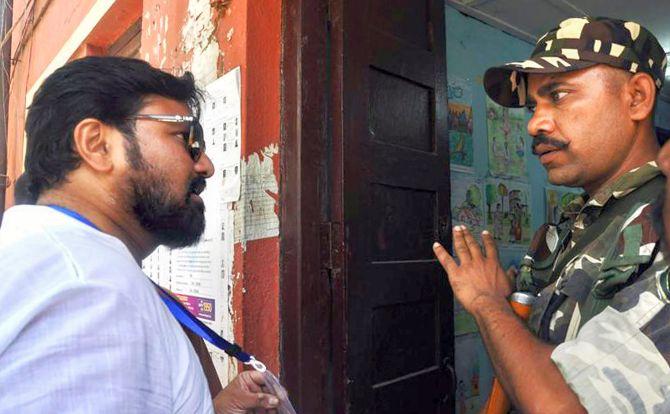 An FIR was lodged against Babul Supriyo, Union minister and BJP candidate for Asansol, following a directive by the Election Commission over entering a polling station at Barabani.
The state's Chief Electoral Officer Ariz Aftab, however, claimed that barring "sporadic incidents", the polling was, by an large, "peaceful".
"Other than some sporadic incidents, elections today were by and large peaceful. Immediate necessary action was initiated at places from where we got complaints," Aftab told reporters.
State's Additional Director General of police (Law and order) Siddhi Nath Gupta said, six FIRs were lodged during the day over incidents of violence and 145 people arrested.
Gupta said five people were injured in clashes between workers of rival political parties. All of them were undergoing treatment.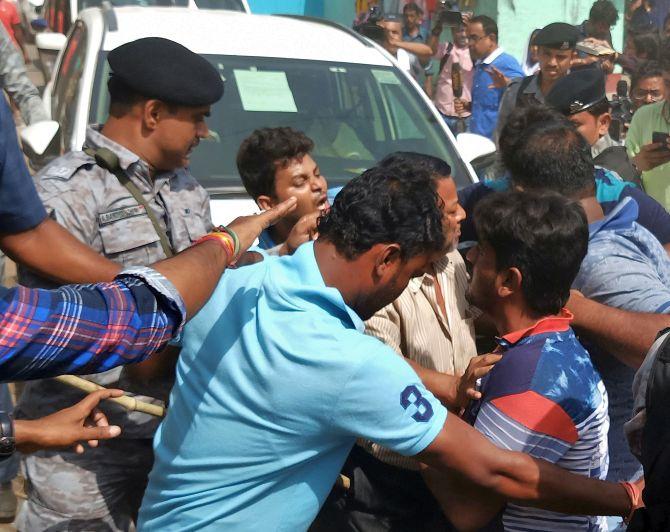 Trinamool Congress and BJP workers and supporters, including women, were seen clashing using bamboo sticks.
West Bengal Chief Minister Mamata Banerjee alleged central forces opened fire inside a polling booth in Birbhum. She claimed the BJP had "misused" the central forces to rig the elections.
The EC show-caused the Birbhum BJP candidate Dudh Kumar Mondal after he was seen talking over a mobile phone inside a polling booth just before casting his vote.
According to reports, Supriyo had an argument with polling officials inside a polling station in Asansol following which TMC workers attacked his vehicle parked outside. Though the rear windshield of his vehicle was smashed the singer-politician was unharmed.
Supriyo said, "I visited Barabani to witness the polling but found that voters were not being allowed to exercise their franchise. Our fight is to establish democracy... It is shameful that I have to say this in a democratic country."
Asked to comment on the incident, TMC's Asansol candidate actor-turned politician Moon Moon Sen said she had no knowledge of the clashes as she woke up late.
"They provided me my bed tea very late so I woke up quite late. What can I say? I really don't know," Sen told a national TV news channel.
She declined to comment when asked about the allegations made by Supriyo. "I don't want to hear his name. Bas (that's it)".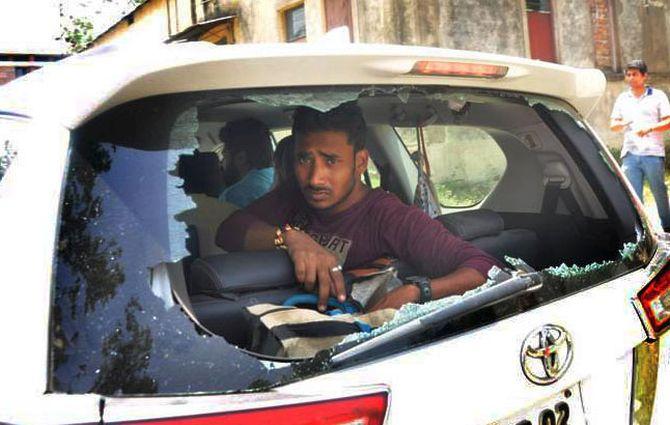 An EC official said that voters fled a polling station at Jemua in Bardhhaman-Durgapur constituency, where BJP leader S S Ahluwalia is in the fray, after being threatened by miscreants.
There were clashes between supporters of rival TMC and BJP at Nanoor, Rampurhat, Nalhati and Suri areas of Birbhum constituency in which several people were injured.
In Dubrajpur area of the constituency, security personnel fired in the air to control a mob which allegedly scuffled with personnel of the central forces when they were barred from entering the booths with mobile phones.
Following this, polling was stalled in these booths, the official said.
A combative Banerjee, who is among the most strident critics of the BJP, accused it of using central forces for garnering votes.
She said she had heard that Central Reserve Police Force personnel fired inside a polling booth at Dubrajpur.
"I am yet to the detailed report... law and order is a state subject and it is not the job of the central forces to enter any polling booth as they are deployed to keep vigil outside it. They do not have the right to lathicharge or fire," the TMC supremo said.
"We know the law... law and order is a state subject and not a central subject. I have heard that complaints were made (before the EC) that the central forces personnel have gone inside booths and asked people to vote for the BJP. This will not help the BJP," she told a rally at Bagda in North 24 Parganas district.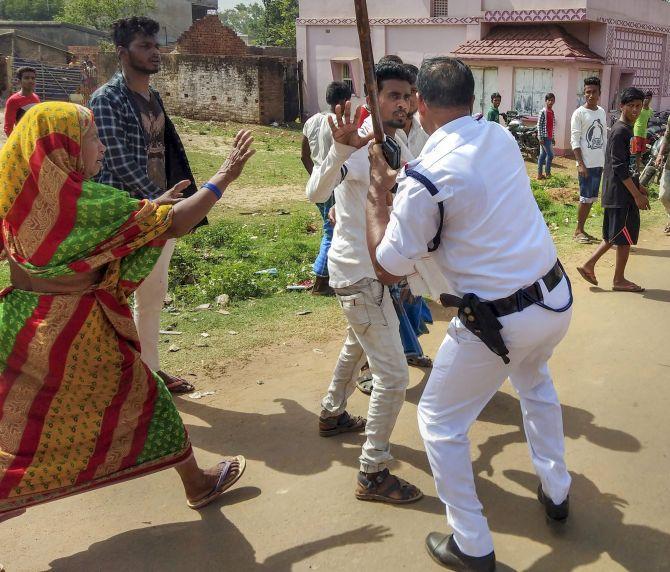 Banerjee said that central forces, even if they have to conduct a route march, are required to do it along with the state police. "But the BJP does not trust the Bengal police. The (West Bengal) police is on security duty during Durga Puja and Diwali. However, during elections you need policemen from Delhi".
The poll body had put TMC Birbhum president Anubrata Mondal, known for his controversial remarks, under scanner after poll workers complained that they feel "threatened" by his presence.
At Hanskhali in Ranaghat constituency, a woman voter was critically injured in a bomb explosion outside a polling station during a clash between workers of rival parties, Nadia district election officer Sumit Gupta said.
Accusing the TMC of rigging the polls in almost every booth, BJP's Krishnanagar candidate Kalyan Chaubey said voters in several areas were not allowed to cast their ballots.
"The TMC goons jammed booths at Chapra, Dompukur and Hatisala areas of Krishnagar constituency. The central forces guarded the booths but people beyond the mandatory 100-metre radius were warned against casting their votes. I was also threatened by some of them," he claimed.
Rejecting the charges, TMC Krishnagar candidate Mahua Maitra said the accusations were baseless.
"They (the BJP) do not have a support base in the constituency so they could not appoint enough observers for the polling stations. Now, they are giving excuses. The allegations are baseless," she added.
The constituencies that went to poll on Monday are -- Baharampur, Krishnanagar, Ranaghat (SC), Burdwan East (SC), Burdwan-Durgapur, Asansol, Bolpur (SC) and Birbhum.