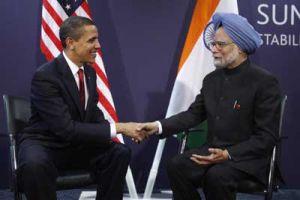 Implementation of civil nuclear cooperation and ways to expand cooperation in the fields of defence, security and economy will be high on the agenda when Prime Minister Manmohan Singh meets President Barack Obama in Washington next week.
Singh, who will undertake a five-day visit to the US from September 26 for the third Summit meeting with Obama, will also flag concerns over the proposed changes in America's visa norms as these would be affecting the highly-skilled IT professionals from India.
The two leaders will also discuss the situation in the region, including Afghanistan after withdrawal of US-led forces next year, besides global issues like Syria.
The meeting between the two leaders will take place on September 27 before the Prime Minister moves on to New York to address the UN General Assembly the next day. At the UNGA, Singh is expected to pitch for grant of permanent membership to India in the UN Security Council.
Briefing mediapersons on the visit, Foreign Secretary Sujatha Singh described energy cooperation, including civil nuclear deal, and defence cooperation as "pillars" of the strategic relationship between the two countries.
She said the third Summit between the two leaders in the last four years reflects that the relationship has reached the "stage of maturity".
The prime inister had undertaken State visits to the US in November 2009 and Obama visited India for a Summit meeting in 2010. Besides, they have met a number of times on the sidelines of multilateral meetings.
The Foreign Secretary said that in the defence field, the two sides would be looking at ways to convert the buyer-seller relationship to joint design, development and production in the defence sector.
About civil nuclear cooperation agreement signed in 2008, Singh said the two leaders will review its implementation.
In the field of security, the two sides will discuss ways for cooperation in securing airports and ports.
The sources said one such case is of the files related to minutes of the 26th screening committee, which are not available in the ministry and despite best efforts only the draft minutes could be traced.
© Copyright 2022 PTI. All rights reserved. Republication or redistribution of PTI content, including by framing or similar means, is expressly prohibited without the prior written consent.