The Supreme Court on Friday dismissed a plea seeking a direction to the Centre and others to take steps to create an appropriate system which empowers citizens to petition Parliament and seek initiation of deliberations on issues highlighted by them.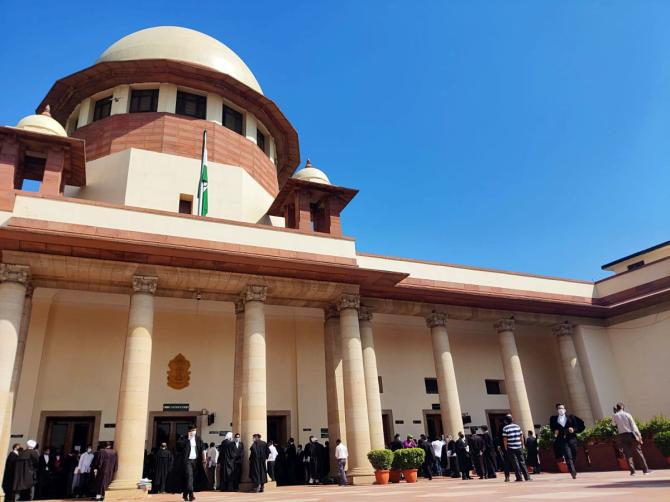 A bench of Chief Justice of India DY Chandrachud and justices PS Narasimha and JB Pardiwala said that a citizen cannot seek a right to stand up in Parliament.
"The reliefs which have been sought fall exclusively within the domain of Parliament. Such directions cannot be issued by this Court in the exercise of its jurisdiction under Article 32 of the Constitution," the bench said.
"Tushar Mehta, solicitor general, with Ms Aishwarya Bhati, additional solicitor general, states, for the purpose of assisting the court, that a procedure is already in place for the receipt of petitions, which are considered by the Committee for Petitions. The petition is dismissed," the bench said.
While hearing the plea on January 27, the apex court had asked advocate Rohan Alva, appearing for petitioner Karan Garg, to serve a copy of the plea on the standing counsel for the Centre.
The plea has also sought a declaration that it is the fundamental right of citizens under Articles 14, 19(1)(a) and 21 of the Constitution to directly petition Parliament to seek initiation of a debate, discussion and deliberation on the issues highlighted by them in their petitions.
"The present writ petition prays that it is imperative for the respondents (Centre and others) to take substantive steps in order to ensure that citizens can have their voices heard in Parliament without facing undue barriers and difficulties," it said.
The plea said as an ordinary citizen of the country, the petitioner felt "disempowered" when it came to participation in the democratic process and after people cast their votes and elect representatives, there is no scope for any further participation.
It said there is a complete absence of any formal mechanism by which citizens can engage with lawmakers and take steps in order to ensure that issues which are of vital importance are debated in Parliament.
"The absence of this mechanism creates a void between elected representatives and citizens. The people are disconnected from the law-making process. This distancing of the citizens to their inherent rights to fully participate in Indian democracy is a matter of grave concern and is an issue which needs to be immediately addressed," the plea said.
It said a system by which the citizens can directly petition Parliament is already in place in the United Kingdom and it has been working well for several years.
It also said that if citizens have the ability to engage with the Centre and Parliament at a deeper level, it may reduce the burden on the apex court and high courts "since there may exist an effective and alternative remedy for espousing and pursuing public interest causes".
The plea said citizens have a fundamental right to participate in democratic affairs and are constitutionally entitled to present workable and constructive suggestions to Parliament on matters of national importance so that public interest is appropriately safeguarded.
"The current system does not fully allow citizens to initiate discussions in Parliament by moving appropriate petitions," it added.
The petition said formulation of well-reasoned and reasonable rules which allow citizens to directly petition Parliament will usher in a transformative era of democratic governance and create an environment for robust engagement between the people of the country and members of Parliament.
It has sought a direction to the Centre and others to expeditiously take steps to create an appropriate system or reasonable rules and regulations which empower citizens to petition Parliament and seek initiation of a debate on the issues highlighted by them.
© Copyright 2023 PTI. All rights reserved. Republication or redistribution of PTI content, including by framing or similar means, is expressly prohibited without the prior written consent.