A team of Andhra Pradesh Police CID officials are interrogating Telugu Desam Party chief N Chandrababu Naidu in the Skill Development Corporation scam case for the second day at the Rajamahendravaram central prison on Sunday.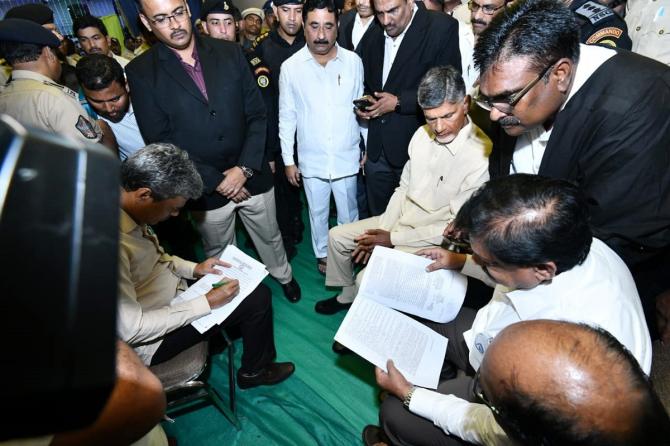 The ACB Court had on Friday granted the CID two days' custody of the 73-year old TDP chief for further interrogation in the case.
The questioning is allowed from 9.30 AM to 5 PM on both days (September 23 and 24).
M R Ravi Kiran, DIG (Prisons) told PTI that Naidu has been handed over to the CID officials for interrogation as stipulated by the court.
The two-day police custody and extension of judicial remand granted by the court will expire on Sunday.
The court had instructed the CID officials to virtually produce Naidu before it through the 'Blue Jeans' app by 5 PM today. The TDP chief was virtually not produced before the court on Saturday.
'Blue Jeans' is an app where prisoners are produced before the courts through online, said Kiran.
The former chief minister will be allowed to take breaks during the investigation and access one lawyer as mandated by the court.
The court allowed three deputy superintendents of police (DSPs) from the Economic Offences Wing of the CID, accompanied by six more junior police officers, one professional videographer and two official mediators to participate in the interrogation.
The court also permitted the assistance of a team of lawyers for Naidu during the interrogation at reasonable intervals of five minutes after every one hour of questioning.
It allowed questioning of Naidu in the jail premises itself, considering the paucity of time, health and age of the former chief minister, helping him avoid the nearly 200 km-long journey from Rajamahendravaram central prison to the CID office in Mangalagiri.
Naidu was arrested on September 9, for allegedly misappropriating funds from the Skill Development Corporation, leading to a purported loss of over Rs 300 crore to the state exchequer.