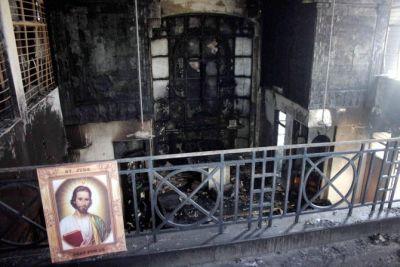 The National Human Rights Commission has issued notices to the Ministry of Home Affairs, Delhi government and police seeking detailed reports on the status of investigation into the alleged vandalisation of a south Delhi church.
According to an official statement released on Tuesday, NHRC has issued a notice to the Chief Secretaries of Union home ministry and Delhi government and the Commissioner of Police calling for a report on the incident within 10 days.
In the fifth such incident since November, St Alphonsa's Church in south Delhi's Vasant Kunj area was vandalised by some unidentified persons on Monday, sparking outrage among the Christian community which alleged that it is part of a "hate campaign".
The commission has sought the report taking suo motu cognisance of some media reports regarding the incident of breaking open the doors of St Alphonsa's Church and defiling of the place of worship and the objects held sacred, the statement said.
NHRC also received telephonic information from advocate Manoj V George alleging that in spite of a formal written complaint by the church priest Vincent Salvatore, police was not taking necessary and appropriate action by registering a proper FIR and commencing effective investigation, it said.
A member of the commission, Justice Cyriac Joseph, had visited the church site on Monday to take an account of the situation.
Incidents of vandalisation and suspected arson at Christian religious institutions have happened in Dilshad Garden, Rohini and Jasola areas of Delhi.
NHRC had issued a notice to the chief secretary of Delhi last month as well seeking a report on attacks targeting churches in the national capital.
Image: A view of in New Delhi's St Sebastian's Church, where a fire that broke out in December last year, which church members had claimed was an act of vandalism. Photograph: PTI Photo