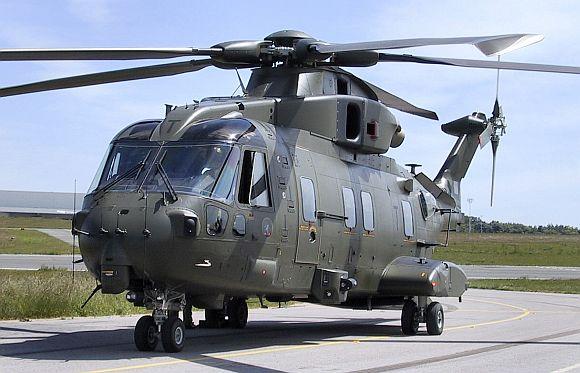 An Italian court has barred India from encashing bank guarantees worth over Rs 2,360 crore of AgustaWestland as part of the penalties imposed on it after scrapping of the Rs 3,600 crore VVIP chopper deal.
India has decided to file an appeal against the decision of the Italian court, a defence ministry spokesperson said.
Around Rs 240 crore deposited in banks in India has already been encashed, but the guarantees deposited in banks of Italy are yet to be recovered.
An Italian court in Milan accepted a plea by AgustaWestland's parent company Finmecannica on Monday to stop India from encashing over Rs 2,360 crore.
"With this measure, the court granted the requests made by the companies of the Finmeccanica Group, recognising the manifestly abusive enforcement of the guarantees made by the Indian defence ministry, given the vagueness of the complaints made in relation to alleged breaches of contract," Finmeccanica said in a statement.
"The Milan court has confirmed the ruling made last January, prohibiting...the payment of collateral of more than 278 million euros deposited in relation to the contract," it said.
India terminated the Rs 3,600-crore deal on January 1 for procuring 12 VVIP AW-101 choppers for the Indian Air Force on allegations of payment of kickbacks and involvement of middlemen in the acquisition process by the Anglo-Italian firm.
The Italian court had put a stay on India's effort to encash the bank guarantees in an earlier hearing on January 8. After the cancellation of the contract, India had also decided to go in for arbitration with the Anglo-Italian firm and the two sides have nominated their members in this regard.
The Anglo-Italian firm has already supplied three choppers to India and the delivery of the remaining nine was put on hold after Defence Minister A K Antony ordered a Central Bureau of Investigation probe into the corruption allegations after the arrest of Finmecannica's former CEO Guiseppe Orsi and AgustaWestland's former head Bruno Spagnolini in Italy in connection with the probe going on there.

Image: India has scrapped the Rs 3,600-crore VVIP chopper deal