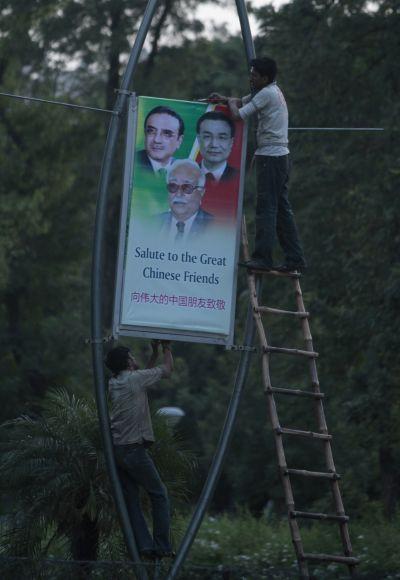 Chinese Premier Li Keqiang on Wednesday arrived to a red carpet welcome in Islamabad and held talks with Pakistan President Asif Ali Zardari, assuring that China's relations with its "all-weather" strategic partner will continue to flourish and strengthen, come what may.
"No matter how the regional and international situation may evolve' China will remain committed to consolidating and developing its strategic partnership of cooperation with Pakistan'" Li at a luncheon hosted in his honour by Zardari.
Li, who assumed premiership in March after a once-in-a-decade leadership change, said that growing friendly relations with Pakistan was a firm policy of the Chinese government.
He said China would continue to firmly support Pakistan in its efforts to uphold independence' sovereignty, territorial integrity and achieve national stability and development.
Li, who is visiting Pakistan on the invitation of Zardari, was received by the president and caretaker Prime Minister Mir Hazar Khan Khoso at a military airbase near Islamabad.
Li was presented a 19-gun salute and a guard of honour at the Islamabad Noor Khan Base, where all three services chiefs, high level civil, military officials, diplomats and ministers were present.
Li, 57, is accompanied by a high powered delegation which includes Foreign Minister Wang Yi, Gao Hucheng, Minister for Commerce and Xu Shaoshi, Chairman of National Development Reform Commission, high ranking officials and leaders of corporate sector.
"On behalf of the government and people of China' I wish to pay high tribute and extend best wishes to the government and people of Pakistan'" the Chinese premier said.
Li said that he had selected Pakistan for his official visit to give a clear and loud message to the international community that whatsoever happens at the international scene China's relations with Pakistan will continue to flourish and further strengthen.
"China and Pakistan are all-weather strategic partners. Over the past 62 years since establishment of the diplomatic relations' our two countries have enjoyed a political relationship of equality and mutual trust' engaged in win-win economic cooperation and extend mutual understanding and support on issues involving each other's interests," Li said.
The Chinese premier, in his arrival statement said, Pakistan was an important country in the region and it had made significant contribution to peace' stability and development of the region and the world at large.
He said relationship between the two countries was an excellent example of countries of different social systems living in amity with each other.
Li stated that his visit's purpose was to carry forward friendship' deepen cooperation and map out the future course of the bilateral ties.
The visit is aimed at consolidating the time-tested friendship with Pakistan and show the world that China intends to continue this partnership, the Chinese Premier said.
He said that both the countries have deep-rooted relations which have been developed by every passing generation.
Li pledged that China would continue to extend cooperation to Pakistan for its progress and development.
He appreciated Zardari for his pivotal role in giving a new dimension to Pakistan-China relations.
China wants long lasting relations with Pakistan to further grow in future in all fields, Li said.
Zardari appreciated the stead fast support of China for Pakistan's sovereignty' territorial integrity and independence.
Zardari said that by choosing Pakistan for his first visit after assuming power, Li had demonstrated depth of time-tested friendship between the two countries.
"It will prove another landmark in our relations which will go a long way in further strengthening our relations," Li said.
Pakistan wants to take advantage of the Chinese experiences in its socio-economic development, Zardari said.
Pakistan is moving towards peaceful' democratic transition of power after general elections, he said.
Zardari hoped the newly elected government will continue to work towards further cementing relations with the Chinese government and people.
He invited Chinese investors and businessmen to come to Pakistan and take advantage of the lucrative investment opportunities.
Zardari asked Chinese investors to contribute in Pakistan's economic development' especially overcoming power crisis.
Earlier' Li and Zardari held a one-on-one meeting at the presidency, focusing on further expanding bilateral cooperation in diverse fields and strengthening existing strategic partnership between the two countries.
Zardari conferred the country's highest civil award "Nishan-e-Pakistan" on Li for his meritorious services for strengthening Pakistan-China relations.
Prime Minister-designate Nawaz Sharif will call on him on Thursday.
Image: Workers fix a banner, which depicts images of Chinese Premier Li Keqiang, Pakistan's President Asif Ali Zardari and Pakistan's Caretaker Prime Minister Mir Hazar Khan Khoso, on a light pole along a roadside ahead of Li's visit to Islamabad.
Photograph: Faisal Mahmood/Reuters