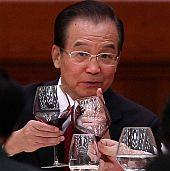 In a potentially-damaging report ahead of his retirement from politics, Chinese Premier Wen Jiabao's family was on Friday accused of amassing assets worth at least $2.7 billion, prompting Beijing to denounce the charge as a "smear campaign."
"Many relatives of Wen Jiabao, including his son, daughter, younger brother and brother-in-law, have become extraordinarily wealthy during his leadership," The New York Times reported, quoting an investigation by it on Wen's premiership from 1992-2012.
"A review of corporate and regulatory records indicates that the prime minister's relatives, some of whom have a knack for aggressive deal-making, including his wife, have controlled assets worth at least $2.7 billion," it said.

In many cases, the names of the relatives have been hidden behind layers of partnerships and investment vehicles involving friends, work colleagues and business partners, the paper said.
"Untangling their financial holdings provides an unusually detailed look at how politically connected people have profited from being at the intersection of government and business as state influence and private wealth converge in China's fast-growing economy," the report said.
Wen's wife, Zhang Beili, has through her management of state diamond companies helped relatives build a billion-dollar portfolio of investments in insurance, technology and real estate ventures, it said.
Zhang is a geologist with an expertise in gemstones.
Reacting to the report, the Chinese foreign ministry denounced it as a smear campaign against China.
"Some reports smear China and have ulterior motives," Foreign Ministry spokesman Hong Lei said in response to a question about the NYT report.
Wen, 70, has been the Chinese premier for almost 10 years. He is due to step down in a power transition that begins on November 8 when the 18th Party Congress of the ruling Communist Party begins.

Both the NYT's Chinese and English sites are being blocked inside China, as are references to the report on micro-blogging sites in the tightly-controlled Communist nation.
Often referred to as "Grandpa Wen" by state media, the Premier is one of the few senior Chinese politicians with the popular touch, usually the first to appear at the side of victims of earthquakes or other disasters.
A WikiLeaks cable dated 2007 quoted a source as saying the Premier was "disgusted" by his family's activities.
But whether he disapproves or not, the investigation shows that much of the wealth has been accumulated in areas of the economy over which he has direct authority.

Wen is not the only senior leader over whom that kind of suspicion lingers, but given his position, his public standing and his own championing of the anti-corruption cause, the Times report will be seen by the authorities here as highly sensitive and potentially damaging, the BBC commented.

The family's investments reportedly spanned several sectors. The newspaper cited one holding as Ping An, an insurance company which it said had benefited from reforms enacted in 2004 by a state body over which Wen had oversight.
It said that partnerships controlled by Wen's relatives, along with their friends and colleagues, had bought into the firm before its IPO, or stock market flotation, in 2004, and held as much as $2.2 billion in the company in 2007.

The newspaper said both the Chinese government and Wen's relatives declined to comment on the investigation, which was based on corporate records from 1992-2012.
No holdings were found in Wen's name, it said, nor was it possible "to determine from the documents whether he recused himself from any decisions that might have affected his relatives' holdings, or whether they received preferential treatment on investments".