Flexing its muscles over Taiwan, China on Monday sailed its aircraft carrier close to the estranged island amid tensions with the US following President-elect Donald Trump's telephone call with the Taiwanese president.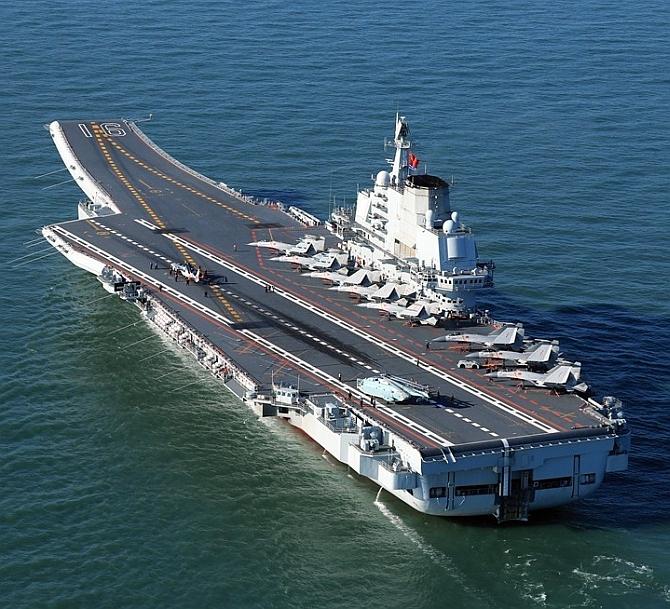 The first aircraft carrier, Liaoning, accompanied by five naval vessels, entered the disputed South China Sea on Monday afternoon after passing south of Taiwan, reports said.
"Aircraft carriers are strategic tools which should be used to show China's strength to the world and shape the outside world's attitude toward China... It is not built for war only. Chinese aircraft carriers must set off on a long journey," state-run Global Times said in its editorial about the aircraft carrier conducting exercises.
"China's core interests are mainly offshore, but the range of aircraft carriers must go beyond offshore areas. The rivalry must be extended to wider areas so as to ease China's offshore pressure," it said, suggesting that Beijing should acquire more aircraft carriers.
"The distant sailing of the Chinese aircraft carrier fleet is not aimed at provoking the US nor at reshaping maritime strategic structure. But if the fleet is able to enter areas where the US has core interests, the situation when the US unilaterally imposes pressure on China will change," it said.
China has also lodged diplomatic protest with the Taiwan-related section in the US National Defence Authorisation Act for Fiscal Year 2017.
"We are strongly discontent with the US for signing this act," China's Foreign Ministry spokesperson Hua Chunying told a media briefing on Monday.
"The Taiwan question bears on China's sovereignty and territory integrity and falls entirely within China's domestic affairs. Although the Taiwan-related content in the US Act has no legal binding force, it still severely violates the three joint communiques and interferes in China's domestic affairs," she said.
"China will by no means accept this. We urge the US side to honour its commitment on the Taiwan question, put an end to military exchanges with and weapons sales to Taiwan and avoid undermining China-US relations or cross-Straits peace and stability," she said.
Also China resumed diplomatic ties with Sao Tome and Principe in Beijing on Monday at a high-profile ceremony in Beijing after the African nation cut "diplomatic ties" with Taiwan amid allegations of check book diplomacy by China.
The establishment of diplomatic ties with the African country comes weeks after Trump had an unprecedented phone with Taiwanese President Tsai Ing-wen and later questioned One-China policy, which drew sharp reactions from China.
Chinese Foreign Minister Wang Yi and Sao Tome and Principe counterpart Urbino Botelho held talks and later signed a joint communique on resuming diplomatic relations.
Sao Tome was among less than two dozen countries which had diplomatic ties with Taiwan till recently without any contacts with China.
But "excess financial difficulties" reportedly made it to turn to Beijing for economic assistance.
"Sao Tome will get full support and help from a permanent member of the UN Security Council and the world's largest developing nation," Wang said after meeting with Botelho.
"China is willing to support Sao Tome's quest for socio-economic development and efforts to improve livelihoods and well-being to the best of its ability," Wang said.
"We have to recognise that China plays an increasingly important role in the world, especially as a partner to promote development and its contributions protecting the
interests of developing nations," Botelho said.
"Sao Tome is a small, island nation, with very friendly people. It is tranquil. It has very good conditions for developing trade and business and cooperating with Chinese companies," he said.