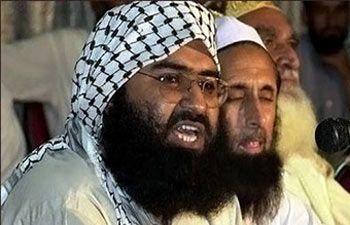 China on Tuesday maintained that its decision to block the bid to get Jaish-e-Mohammed chief Masood Azhar banned by the United Nations was in accordance with "facts and relevant resolutions", a statement that came after two senior Indian ministers raked up the issue with their Chinese counterparts.
China was in "sound communication" with all relevant parties including the Indian side over the Azhar issue, Chinese Foreign Ministry spokesperson Hua Chunying said ahead of the crucial boundary talks on Wednesday between National Security Advisor Ajit Doval and his Chinese counterpart Yang Jiechi.
As both External Affairs Minister Sushma Swaraj and Defence Minister Manohar Parrikar raised the Azhar issue strongly in their talks with their counterparts asking China to review its stand, Hua once again reiterated that Beijing's decision was in accordance with "facts" and "relevant" UN resolutions.
"As for the listing matter, China has already expressed its position. We support the UN central coordinating role in the world campaign against terrorism and China has taken active part in the world cooperation against terrorism," Hua said.
"We oppose double standards in counter terrorism campaign. We have been dealing with the listing matter in accordance with the facts and relevant resolutions. We are also in sound communication with all relevant parties including the Indian side," she said.
China's assertion came in the backdrop of Swaraj's remarks at the Russia-India-China foreign ministers meet in Moscow where she warned the international community of "serious consequences" if it continues to adopt "double standards" in dealing with terrorism.
China's "hidden veto" in blocking India's bid to get JeM chief Azhar banned by the UN has cast a shadow on the Sino-India boundary talks beginning in Beijing on Wednesday.
While Swaraj raised the Azhar issue with Chinese Foreign Minister Wang Yi in Moscow on the sidelines of the RIC meet, Parrikar, who held talks with top defence officials on Monday, said he took up the issue with them.
"What happened in UN is not in the right direction and they have to take a common line on terrorism which is in the interests of India and China," Parrikar said.
Asked to elaborate on what "facts" China needed on the issue of Azhar, whose outfit Jaish-e-Mohammad was banned by the UN in 2001, Hua said she needs to check on it.
However, she said the Chinese mission in UN is in touch with relevant parties including India.
Talking about criticism that China's stand of putting a "technical hold" on India's move at the last minute to get Pathankot terror attack mastermind Azhar banned by the UN smacked of "double standards", Hua said, "China is firmly opposed to double standards on the counter terrorism issue".
"China is also victim of terrorism. We believe that only by working as one we can fight against terrorism and maintain peace and stability of the whole world. There is no doubt about that," she said.